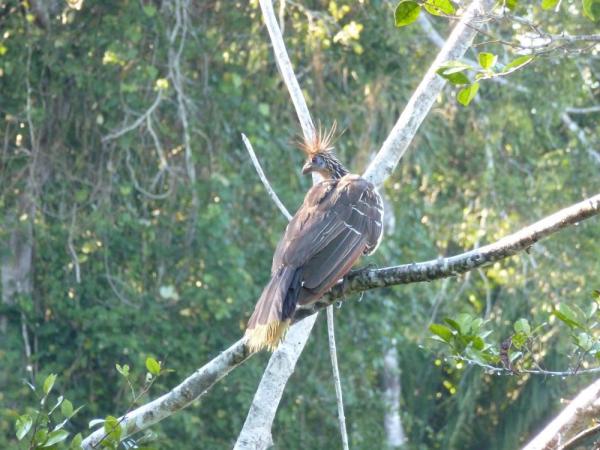 Got to sleep in til 6:30 - WOW! Left for our next adventure with a new group of people - 3 school teachers. First stopped at a llama farm/weaving cooperative, where we saw lots of varieties of llamas, alpacas, and even vicunas with super-long necks. Then went to Pisac Ruins - amazing terraces and buildings with slanted walls, dating to the 12th century. Built by the Quechan people (later incorrectly called the Incas). Brian wasn't freaked out by the paths right next to the cliffs, which made it so much more fun. Then to Pisac Market where I bought 2 bags. Never have been any good at bargaining! Then to lunch at a buffet restaurant --- it was so tasty to have cold stuff again.
Then to Moray, which is a very old agricultural center with circular terraces where they experimented with growing even Amazonian crops at 11,000'. The terraces were in an incredible depression next to very high mountains, all snow-covered and with glaciers (over 20,000' tall --- the tallest mountains we've ever seen; even taller than DeNali!). Gorgeous setting. Then to a salt mine which turned out to be hundreds and hundreds of salt pans. Since Incan times, families have harvested salt here --- each family has about 50 pans to take care of. Water from the mountain is diverted into the pans and after 7-10 days, salt is collected. So incredibly much work! 100 pounds of salt yields $6US. And 2 kg. of potatoes yields 1.5 soles, which is about 45 cents US.
On the way, we saw people plowing fields with oxen and donkeys carrying very heavy loads. There is nothing mechanized here. The experimental station was really interesting. They even made hybrids and produced over 3,000 varieties of potatoes alone (all between the 12th and 16th centuries). Enjoyed happy hour looking out our hotel window at all kinds of ancient ruins on the surrounding mountains.
Had dinner at Hearts Cafe in Ollantaytambo --- all profits go to a non-profit organization for children and orphans of the Sacred Valley. Lots of mothers die in child birth in the indigenous Quechan villages, because the people do not believe in white man medicine.