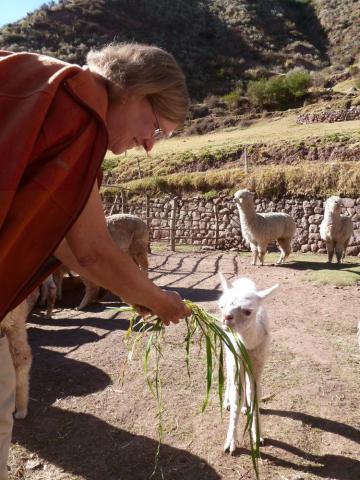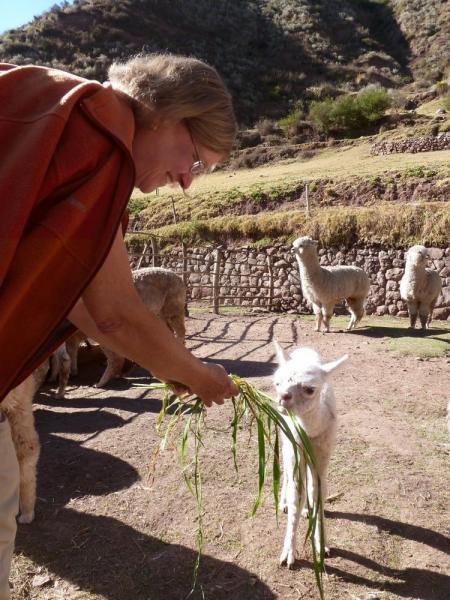 What a wonderful last day, filled with amazing sights and fun adventures.
*Qorikancha - Temple of the Moon. On the way there we saw police men dressed up in crazy costumes with whips, to prevent people from jay walking!
*Food market - bull's penises, whole pigs, hallucinogenic drugs, juice stations with the biggest papayas we've ever seen, chicken soup stations, etc. This market was definitely for the local people. We were almost the only tourists there!
*Saqsaywaman - an ancient Incan site with the most humongous rocks. I still can't understand how it was possible to build the rock walls. I became infatuated with all the crazy shapes of the rocks and how they fit together so perfectly --- no mortar. You can't even fit a piece of paper between the rocks! The rocks made such interesting patterns!
*Sweater factory - I bought a gorgeous baby alpaca sweater
*Lunch at Inka Grill - very tasty Peruvian dish - aji de granilla (chicken with a slightly spicy peanuty sauce)
*Le Cathedral - highlight was seeing the painting of the Last Supper done in the Cusco style. Judas was painted as Pisarro and the food was guinea pig!!!
*Inka Museum - whirlwind visit with the Energizer Bunny Ayul. Interesting but so fast.
Then said good-bye to everyone. Had guinea pig for dinner at Kusikuy --- tasty, but not much meat. In the initial presentation, the guinea pig was eating a pepper, and had a half-tomato hat, complete with greens adorning the hat! The head was still there after they cut it up! Very fun way to end this amazing Peruvian adventure.
SO SO SO GLAD we did this trip and can't wait to come back to South America. . .