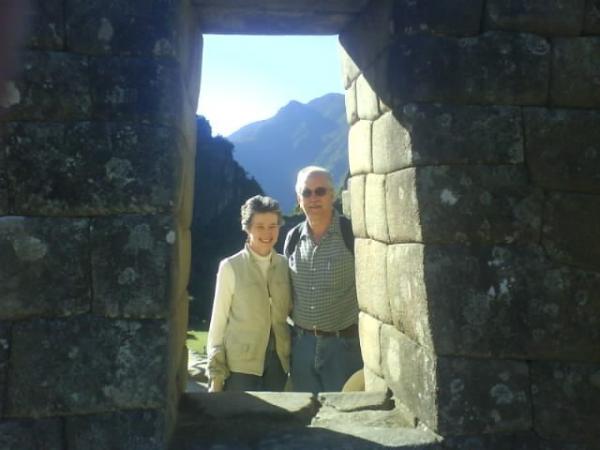 The flight was only an hour, but the landscape changed dramatically from the foggy seaside city of Lima to the clear mountain air of Cusco. The city spreads in the valley inhabited by about 300,000 people. We were met at the airport with music by an Andean band and our guide Edwin Vasquez, a 37-year-old mestizo with a dark handsome face. He pointed out some of the highlights on the way to the Hotel del Prado, which was located just off the Plaza des Armas, the main public square. The hotel was very cozy and comfortable, and the staff was welcoming. We were immediately seated in the dining room and urged to drink a few cups of coca tea and lots of water, and advised to avoid fatty foods to counter altitude sickness.
After lunch at the elegant Inka Grill on the plaza, we spent the afternoon touring the cathedral and temple of the sun. The cathedral was built in the 1500s by the Spanish. It was brown and rough on the outside, with multiple domed vaults and symmetrical towers, but on the inside it was full of gold-encrusted baroque, rococo and renaissance shrines and huge paintings in muted gray and black in the Spanish style "portraits and religious scenes" many painted by local artists. Enshrined in a small undercroft are the ashes of Garca I Llosa, the mestizo chronicler who in 1609 recorded his memories of the 1533 Spanish conquest of the Incas.
Cusco's temple of the sun is a colonial church built on top of an Inca structure. A cloister was constructed among the Inca walls; outside were terraced gardens and a fountain. Dinner that night was early, at Incanto off the Square. Aji de Gallina, a local dish of chicken in chili cheese sauce, was a revelation.