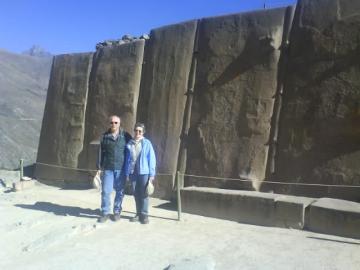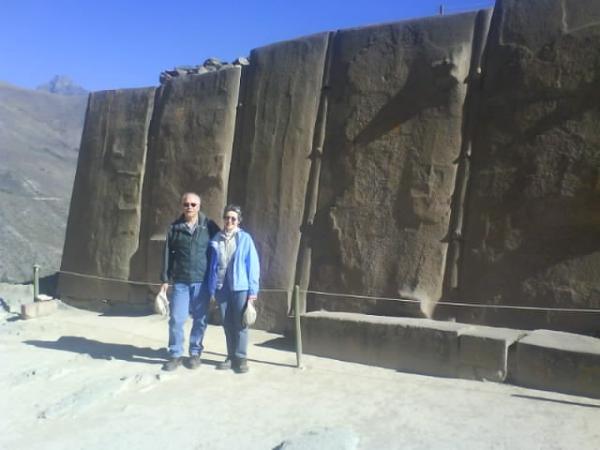 We departed in a van for the Sacred Valley. Our first stop was the Inca ruins at Pisac, set high on a hill with terraces stepping down with an impressive fountain, a cemetery in the hillside, now marked by holes left by grave robbers, and stone dwellings overlooking the terraces. After this we went to the market at Pisac, where we bought green serpentine jewelry for me, a hat for Dave and textiles.
Next was Maray, where the Incas sculpted natural depressions in the earth into concentric circular terraces. We walked on stone steps cantilevered from the walls to the bottom where we encountered two men digging potatoes. Following local custom, we left an offering of a quarter in the very center of the circle. The Incas used the terraces, which were irrigated by a central stone-lined channel, to test crops at different levels or microclimates. (Peru grows 3,000 varieties of potatoes, and Dave swears that they are the tastiest he's ever eaten.)
Next were the salt flats of Maras, where terraces have been used to evaporate water from a salty spring for 600 years. It was here that I clumsily dropped my camera in the brine, ending its useful life. This was disappointing because it meant I would be without a camera at Machu Picchu the next day. I decided to accept this fate rather than buy a disposable camera along the way. There may be some merit to the idea that looking through camera can hamper really seeing. In the end, Edwin saved the day by taking many photos on his cellphone/camera and emailing them to us at the end of the trip.
The landscape approaching the Sacred Valley consisted of a wide plateau divided into small fields cultivated with barley, wheat, and alfalfa and managed by Andean campesinos, or subsistence farmers. We saw tiny dark-skinned men and women, children and dogs wandering in the streets and fields, sometimes seemingly in the middle of nowhere, but they appeared perfectly comfortable in their space. The traditional dress for women is a gathered skirt, a sweater and a top hat, with narrow brim, often plastered white (to reflect the sun's hot rays?). They carry their babies on their backs wrapped in brightly striped cotton blankets. All the children seemed happy and secure, possibly because they were in constant physical contact with their mothers as babies. There also seems to be only one sort of dog -- a shaggy, medium-sized mutt. They were seen sleeping in the sun in the streets and seemed to belong to no one.
At almost every archeological site or scenic vantage point and public square, we were approached by women and children to buy their handicrafts woven belts, watercolors, carved gourds, pendants or to take their photos in full Andean costume with a llama in tow for a small fee. On our way to the Sacred Valley we stopped for a picnic at an overlook. We were soon visited by a shy two-year-old girl offering little llamas. I gave her a cupcake and took her picture. After a while, a three-year-old boy, also in costume, came over offering some other trinkets. I sent him back to his mother with a sandwich.
When we pulled into Ollantaytambo at dusk we found a living Inca city. Laid out in a grid with narrow stone-paved lanes, the town also had a substantial water system with channels near the western edge of the city. Each lane was flanked by stone walls pierced by wooden doorways into inner courtyards and small stone chambers. Our hotel was at the western edge of town, and our corner room had a magnificent view of the terraced Inca ruins on the hillside. Just before dinner, the power went out, so we entered a restaurant by candlelight. The ambience was so romantic, I was a little disappointed when the lights came back on.