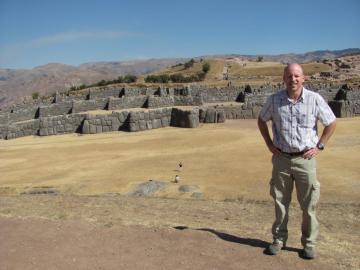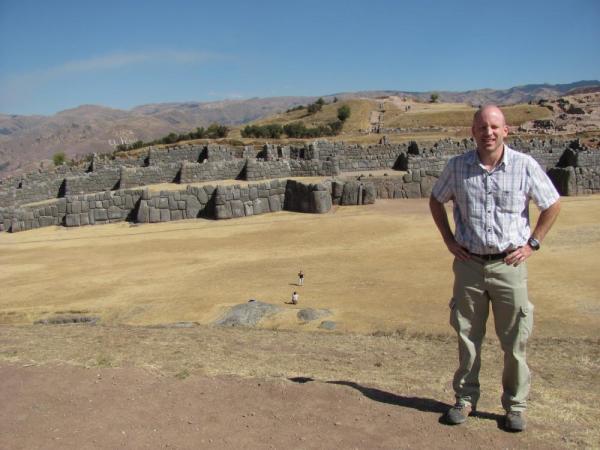 Change of plans. Vidal asks the group if, instead of the planned hike, we would like to go straight to Aguas Calientes and have an extra afternoon to explore Machu Picchu. Being flexible and adventurous Adventure Lifers, we all gladly jump at the idea. The new plan was to drive to near the hydroelectric plant on the west side of Machu Picchu and catch the train from there in to Aquas Calientes. For reasons that were never made entirely clear, we discovered when we got to the train station that only Peruvian citizens were allowed on that particular train. The only option at that point was for us to hike along tracks into town. Since he has a Peruvian passport, Vidal could ride the train, so his solution to our dilemma was for him ride the train and take our luggage while we hiked.
After waving good-by to Vidal and our bags as the train pulled away, we began the two hour walk to Aguas Calientes. It turned out to be a nice hike and a great time. The weather was cool and most of the way was shaded. The route approached Machu Picchu from the west and north, so we got a great view of it from below that probably few travelers get to see. We had group bonding moment when we sang Stand By Me as we walked across a railroad truss bridge just like the one in the movie. We even had a temporary guide in the form of one of the local dogs who attached himself to our little group and lead us all the way to Aguas Calientes. We met up with Vidal just outside of town – he already had our bags moved to the hotel and checked us in.
In the afternoon, most of the group headed up to Machu Picchu. I wanted to do something different and Vidal suggested I climb Putucusi, which is mountain directly across the river from Machu Picchu. It turned out to be a pretty steep climb. Near the beginning, there is a section that has ladders where the climb is almost straight up. It turns out that some of the ladders had washed away and some of the others were rotten (which probably explains why I had the trail to myself). That made the climb even tougher, but it was well worth it when I got to the top. All of Machu Picchu, from the Gate of the Sun to Huayna Picchu was laid out directly in front of me on the other side of the river. It was a perfect place to see Machu Picchu.