We drove (yes drove!) to Km 82 to meet our porters and go through the check point for the Inca Trail. 
T
he Inca Trail is not a typical US trail, it is a bunch of uneven rocks, mud, and other slimy thingslike the picture at the beginning of this post.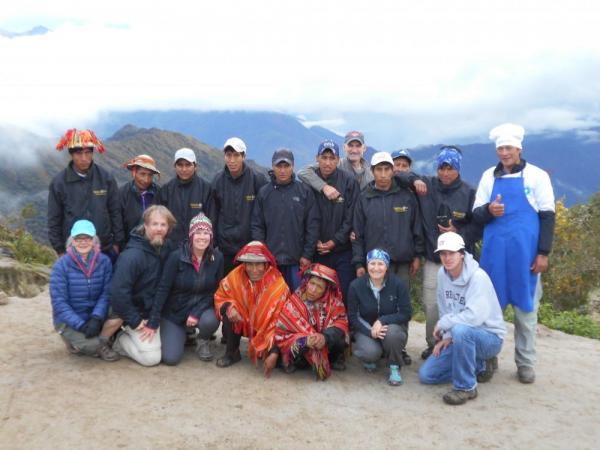 Our team with the porters
Back row: Juan, Epiphanio (age 63), Francisco, Damian, Hector, Theodoro, Bill, Julio, Marcellino (partially hidden), Royal, and Augusto
Front Row: Liz, Ken, Laurie, Isaac (King Kong age 73), Bautista (age 63), Christina, Aaron
Finally, after 4 days (which really did seem much longer) we were at Day 1 on the Inca Trail.  We hiked a while passing several Inca ruins too far off trail to visit.  We stopped in a tiny village (yes there are villages on the Inca trail for about the first 7 miles.  It started to rain so we put on our rain coats and pack covers. (It rained every day on the trek).  After about 10 minutes the rain stopped and it became very humid.  We stopped to look at some ruins (Qhanabamba and Torontoy) in the distance and removed our coats.  We went on to meet our porters who had set up some tents for lunch.  What a lunch!, hot tea, spinach soup, chicken with vegetables and avocado.  I definitely ate too much for lunch.  We then continued on to our campsite at Wayllabamba.  We had several hours before afternoon tea so we walked around a bit and saw the plaza, church, and medical clinic. After tea we met our porters and learned their names. (Well I learned their names, then wrote them down and tried to use them every time I saw one of them.  Let's just say it took me 3 days to get it right).  We had some free time to relax and then dinner was served, vegetable soup, fresh trout, vegetables, and rice.  This is the life, the Adventure Life way – breakfast, snack, lunch, tea, and dinner all included.  I think even with all the hiking and stair climbing I gained weight.   We are now up to 7 ruins and too many stairs to count.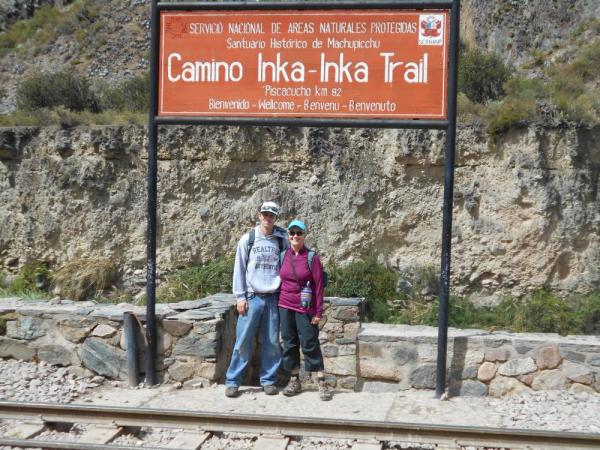 Starting the Inca Trail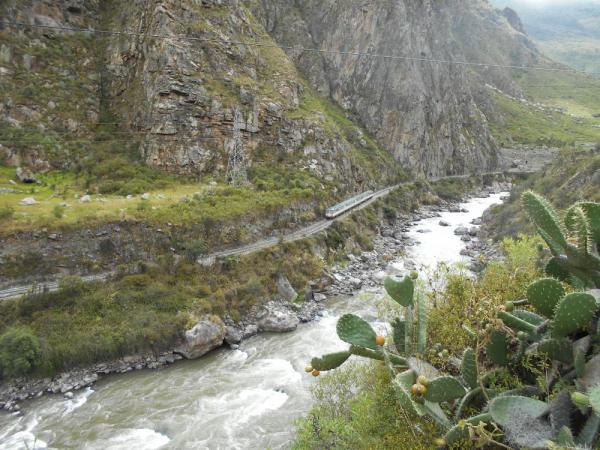 Urubamba River with Peru Rail in the distance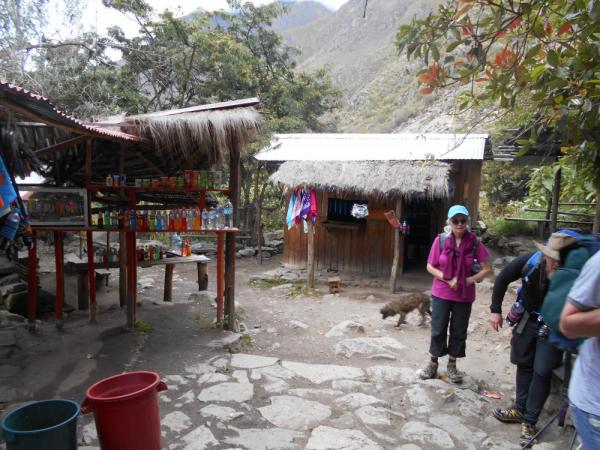 Stopping to put on our rain coats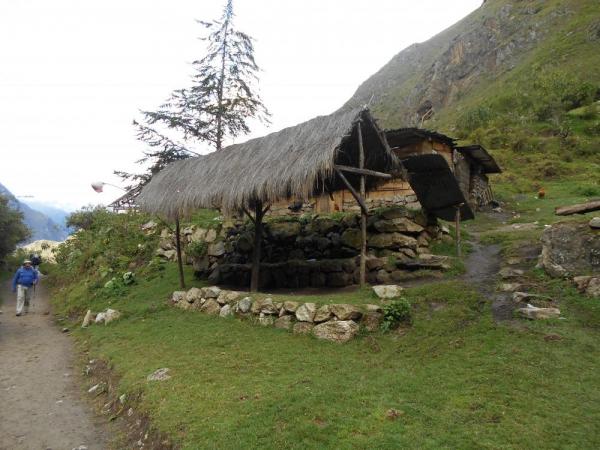 The red bag is out – the bar is open!
The medical clinic with free immunizations, the plaza, and the church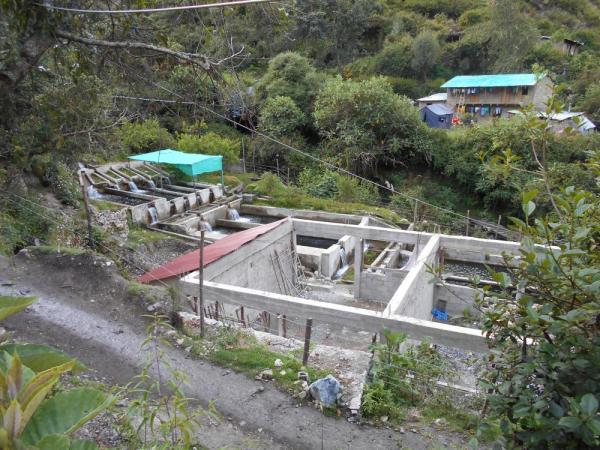 The trout farm – where our first night dinner was caught!
Day 2 on the Inca trail is the most difficult.  We climbed 4000 feet to Dead Women's Pass (Abra de Warmi Wanuska) at 13776 feet.  There are many stairs on this hike.  When I say many, I'm not saying 1000 or 2000 no that would be a normal day, it was about 6000 stairs up over that 4000 feet.  Not even stairs, stairs built by the Incas who apparently hated me before I was even born!  By the last 25 feet I just wanted to stop. But no, you must get to the top so you can go down the other side.  It took me about 4.5 hours to do those 6000 steps (only 25 minutes less than my husband so I didn't feel too bad – yes there is that competition again).  After a snack and a break we started down.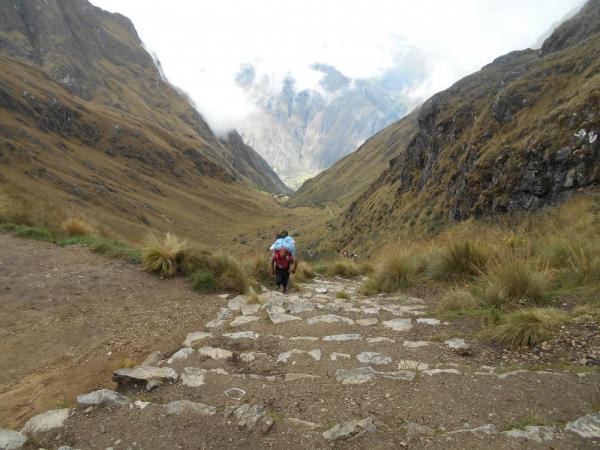 Looking down from Dead Woman's Pass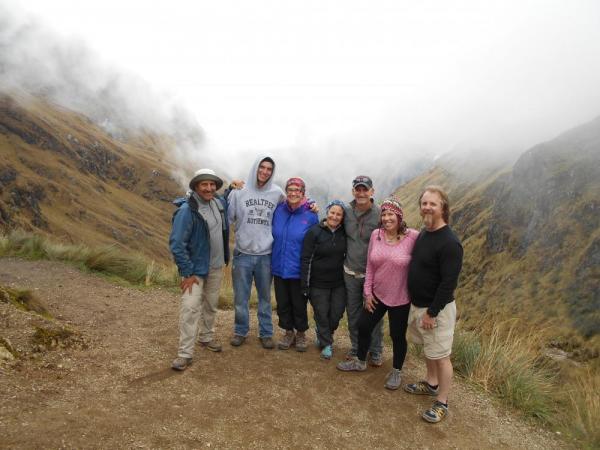 Group at Dead Woman's Pass: Juan, Aaron, Liz, Me, Bill, Laurie, and Ken
This was another series of steep steps.  Walking down is easy on the heart but hard on the knees.  Going down damp steps is tricky and I slipped a few times but the closer we were to camp the stones became very slick. I slipped once and fell on my butt.  The second time I fell, my left leg twisted under me like I was some graceful ballerina (NOT!).  My husband came back, picked me up, and just held me for a while.  That must have been a sight, a 52 year old woman exhausted, wet, and falling down being held by her husband of almost 30 years.  All I can say thank goodness the most challenging day is done.  We had lunch, tea, and dinner in our camp so there was plenty of time to relax and even nap!  No ruins to visit today so we are still at 7 ruins and I think over 10000 stairs.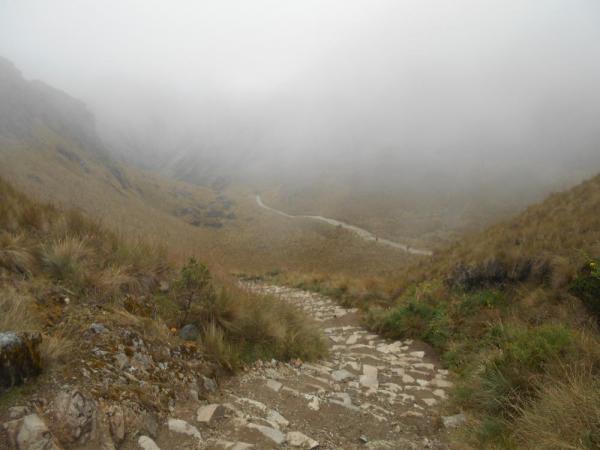 Going down  (getting ready to fall)
Day 3 on the trail started with 1000 steps up to the second pass on the trail (Qochapata).  The second fall on day 2 caused a sore left knee and ankle.  After the first pass it was down hill to a ruin at Sayaqmarka.  We explored this ruin for some time and then our guide told us it was time to move on to lunch.  We had a large thunderstorm during lunch so we waited it out in the dining tent while the porters stayed in the cooking tent.  I thought we would be walking in a drizzle but it stopped.  Juan really understands the weather on the trek.  We had a 2 hour hike to get to camp and once we arrived we found out we were the only group there.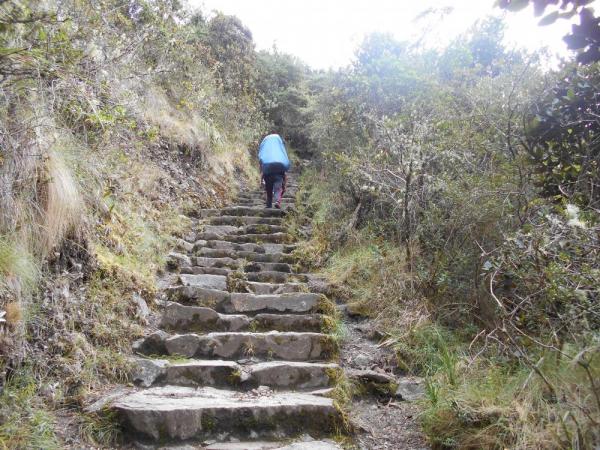 Back up more steps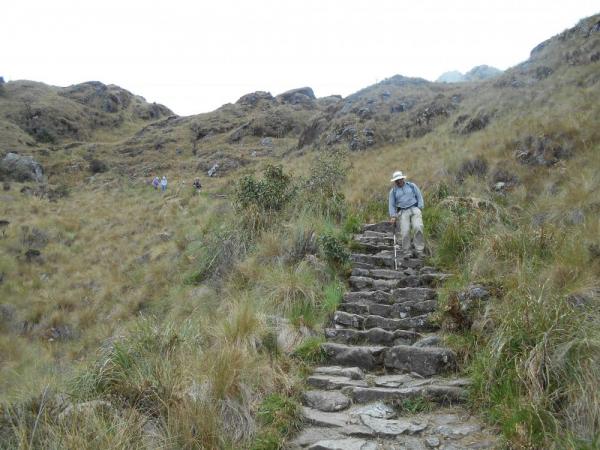 Our guide Juan takes it easy going down the steps
Juan and I at Runkurakay.  He was so excited to get his picture taken he choked up.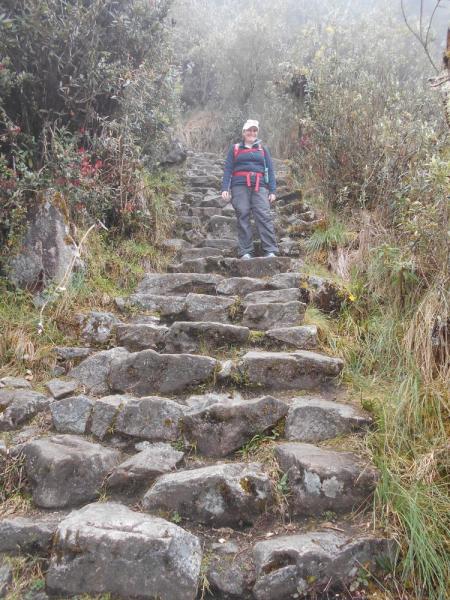 At the ruins of Sayaqmarka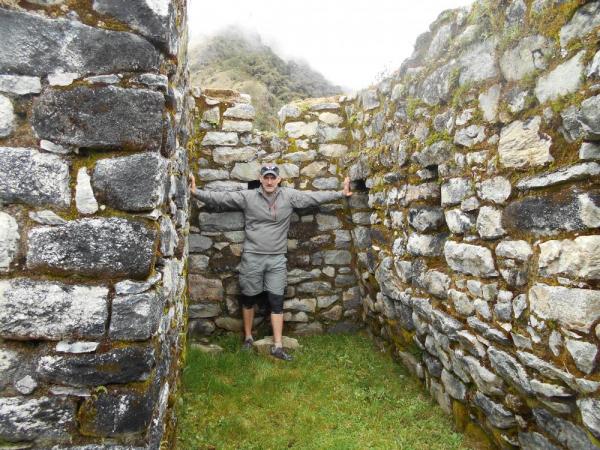 This is where they made the bad boys stay in Sayaqmarka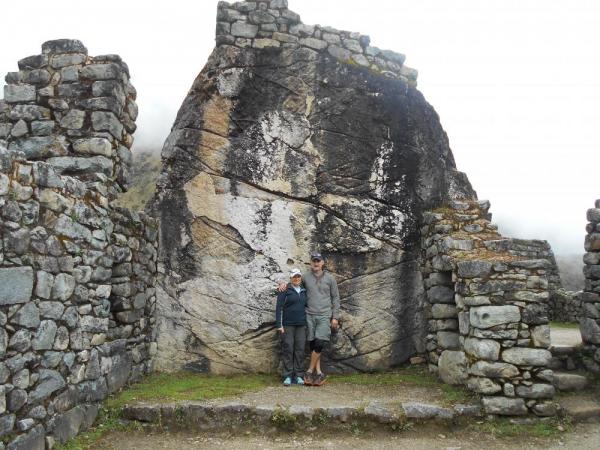 Wonder what they used this platform for? Not human sacrifice – the Incas did not sacrifice humans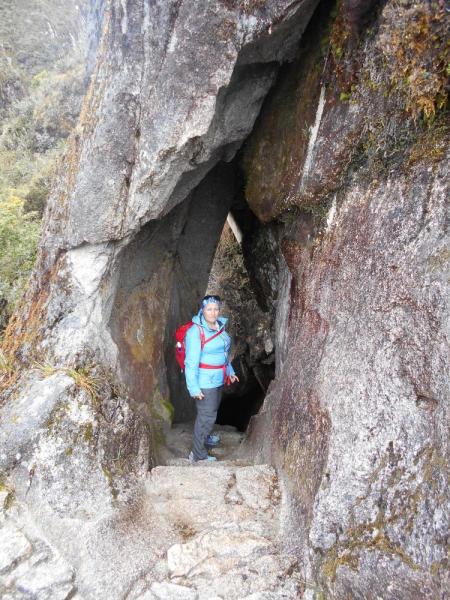 Why yes, I will stop in this Inkatunel for a photo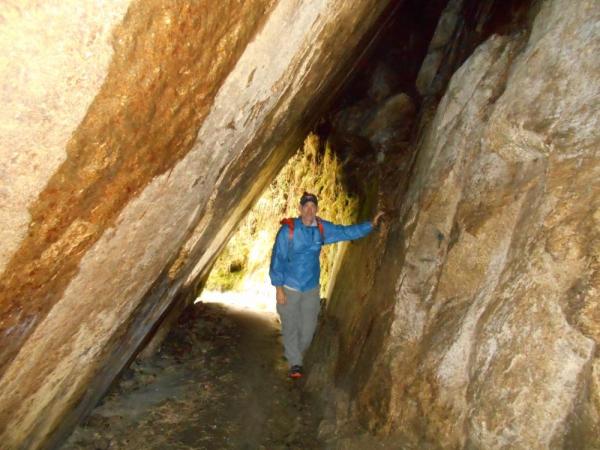 Bill's turn for a photo in an Inkatunel
It was very quiet and some llamas came to visit.  Bill took a hike up to a ruin (Phuyupatamarka) above the camp.  He looked like a warrior on top of the wall.  I wish I had my camera with me.  The view of the glacier was magnificent from here.  We are now at 9 ruins at over 11000 stairs.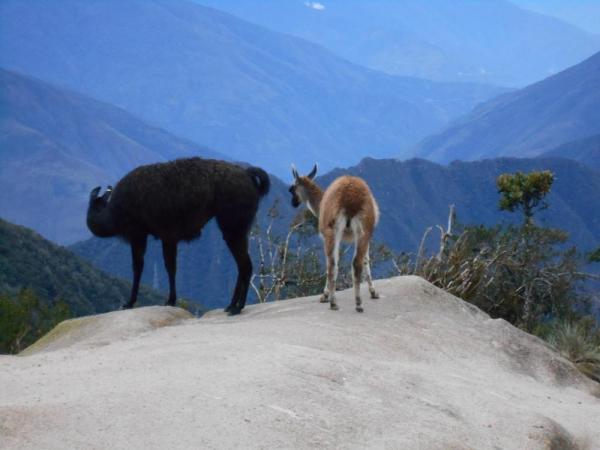 Llamas!!!!! Mama and baby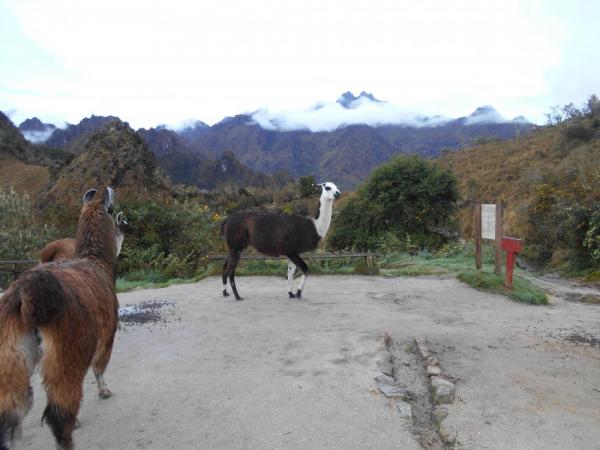 Hello there, I think I will pose for you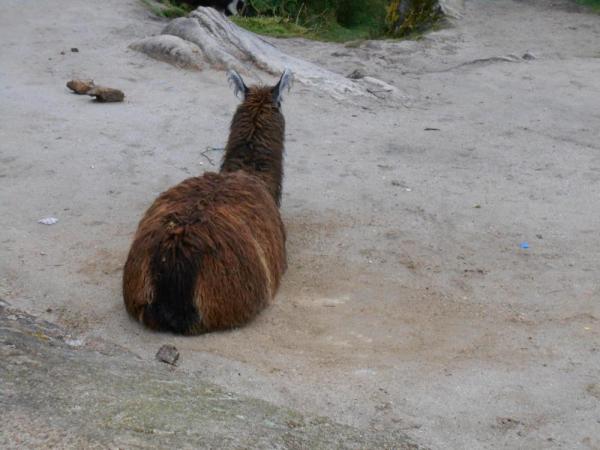 I'm too tired to show my face
Day 4 on the Inca trail began with a breakfast of tortilla (Peruvian omelet) and bacon followed by the tip ceremony.  Our porters were so friendly, polite, and supportive and I thanked them each by name with no help at all!  I have fond memories of them.  We hit the trail for the final 7 miles to the Sun Gate at Machu Picchu.  The description said steep stone steps and that was certainly the case.  We went up and down those steps for all 7 miles.  We walked through a rain storm and finally used our rain pants.  We stopped at Winaywayna and heard that a llama had given birth the day before.  This was after the daddy llama came running at us and we scrambled off the path.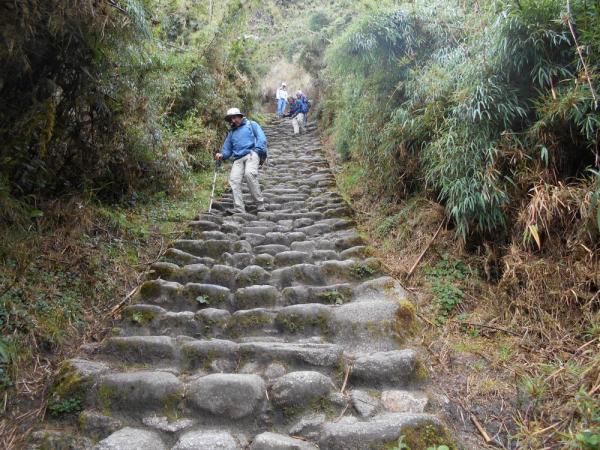 Going down, down, down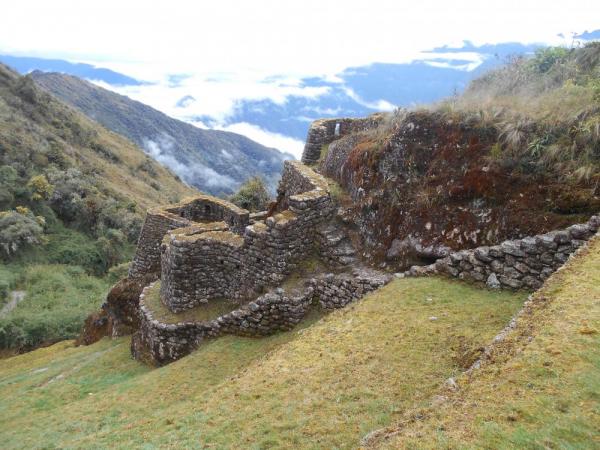 What? More ruins?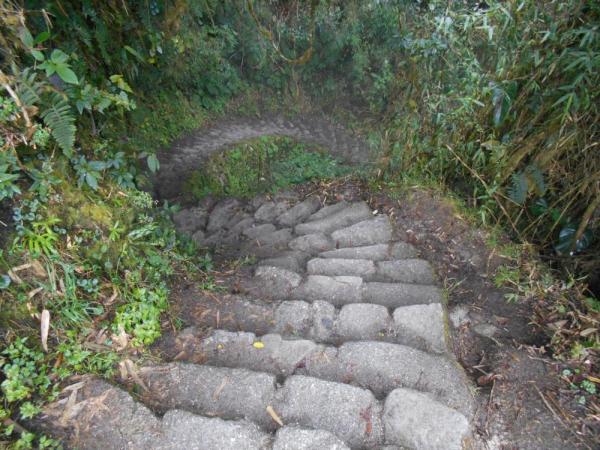 A "S" shaped stairway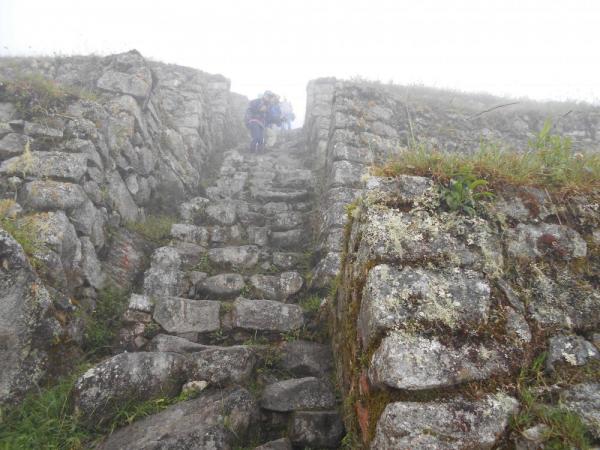 Please climb more stairs to Intipata ruins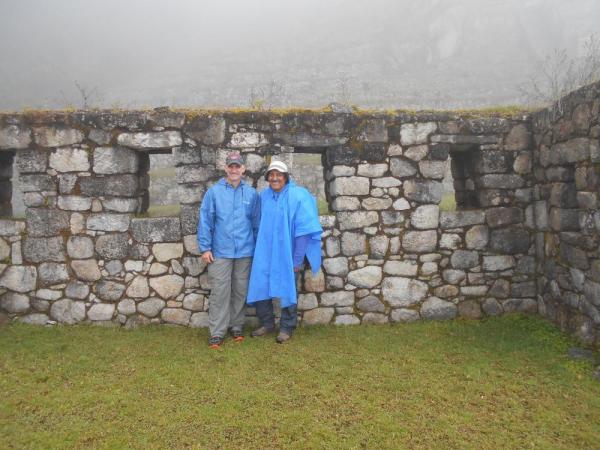 Bill and Juan at Intipata – Juan was happy to have this picture taken.  I might get a complex since he didn't choke up with Bill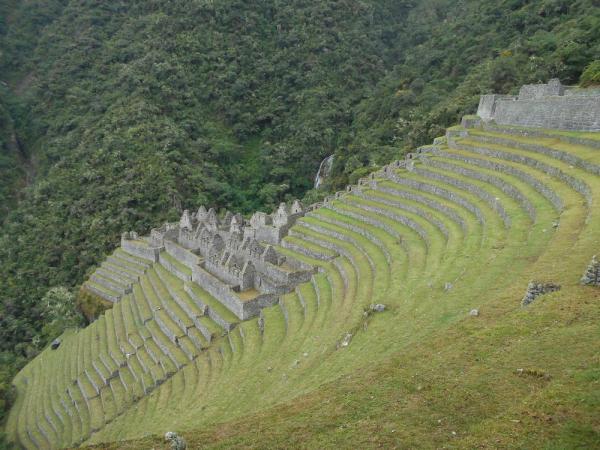 The ruins at Winaywayna
We visited Intipata and after a bagged, picnic lunch on the trail arrived at the Sun Gate around 1.  We walked down to Machu Picchu and began our tour.  It was fascinating to walk around the site learning about the history.  We made it to our hotel in Machu Picchu Pueblo and on unpacking my bag discovered my sleeping bag had been stolen.  I really wished they had taken the dirty laundry instead.  The hotel said the porter who dropped our bag must have taken it but since it was either Bautista or Epiphanio I knew that was not the case.  The manager said the bags were under video surveillance but we found out for about an hour they were in a hallway not covered by the cameras.  Oh well, at least the high and low points were on the same day – sleeping bag stolen; finished Inca Trail and toured Machu Picchu.  The good definitely outweighed the bad and I had a long hot shower and slept in a comfortable bed. Total ruins 12, total steps: too many to count.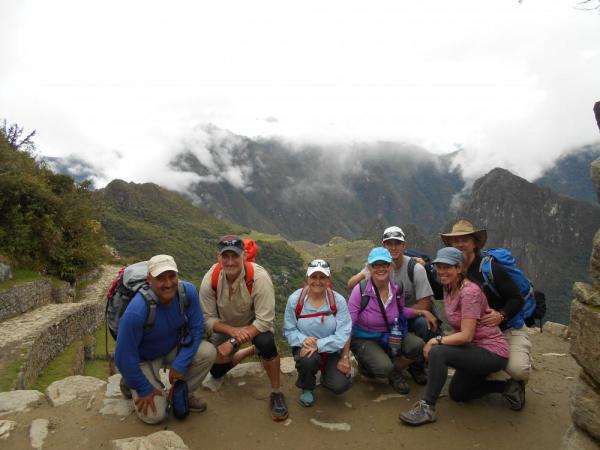 At the Sun Gate: Juan, Bill, me, Liz, Aaron, Laurie, Ken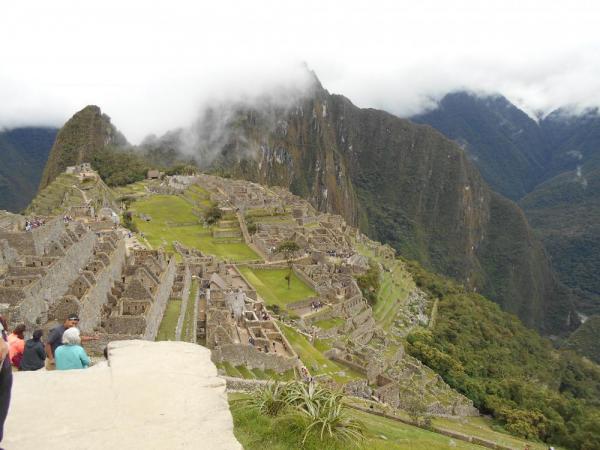 Looking over Machu Picchu