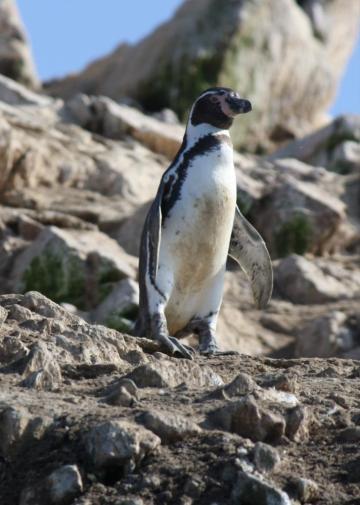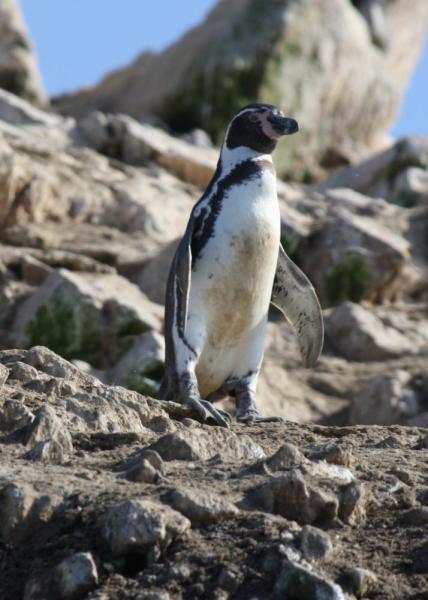 .
With the sun rising over the Bolivian Andes and peering through our window at 6 am, we rose in order to prepare for our departure. Following breakfast of rolls, fried cake and tea, and with many hugs and gracias to the family, Olga again led us down to the harbor.
TAQUILE ISLAND
About 22 miles east of Puno, this small island is stunningly beautiful. Only 1/2 mile wide and 3 1/2 miles long, it rises to a high point of 866 feet above the lake. The rugged ruddy color of the land contrasted with the blue sky and lake, and its hillsides were dotted with Inca stone agricultural terraces and other stone ruins. Known for retaining its traditional customs, the 3,000 inhabitants go about their daily lives without electricity or vehicles. Taquile textiles are some of the finest in Peru.
The boat trip to Taquile Island took about 2 hours. The sky was blue and the waters were calm. Approaching the island, we realized the climb to the plaza would be daunting as we could see the stone-paved path was steep and long. Beautiful views offered numerous photo opportunities and much needed rest breaks. The island's main plaza featured a small church, several small food shops, and a textile cooperative featuring locally made woven hats, sweaters, shawls, and blankets. The men were the knitters in the community and could be seen knitting as they hurried across the plaza. The plaza was rather unattractive compared to plazas in other villages as it was void of plants, benches, or fountains. A brightly painted green and yellow school and small stucco homes with a variety of beautiful flowers were located on paths leading from the plaza. Following a brief talk by our local tour guide, we again walked up a narrow steep path for lunch served outdoors on a lovely patio overlooking the bay. With fresh fish as the main course, we enjoyed grilled trout served with fried potatoes and rice. Inca Cola and Coke were popular beverages. The walk to the boat now on the other side of the island entailed a steep flight of over 550 rock steps descending to the coast.
Although the boat rides were long, the time was enjoyable and passed quickly as we conversed with other tourists from New Zealand, France, and the Netherlands, who shared their travel adventures, including a New Zealander who attends the EAA exhibit in Oshkosh. Some of the travelers completed missionary work or were students. Returning to the hotel near 4 pm, we needed to say good-bye to Carlos for as planned, he was returning to Arequipa. Again, Dick and I rested prior to heading out to dinner. We again walked to the pedestrian mall and ate at Colors, a small and inviting restaurant. I don't recall what we ate, but the piscos sours were great. Following dinner we walked for a short while prior to returning to our hotel and watching CNN.