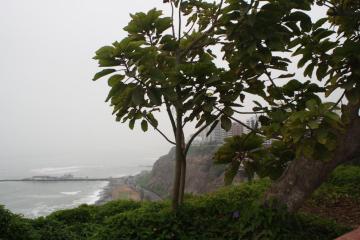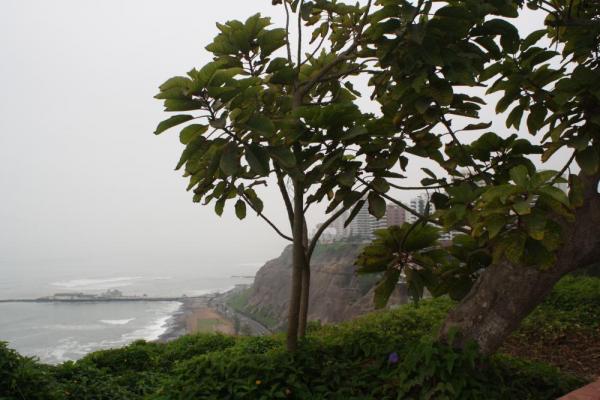 .
Following a 7:30 am breakfast, Dick and I made a quick trip to the ATM and then walked approximately seven blocks to the coast. The streets were very busy with cars and pedestrians. Although we did not observe stop signs or lane markers, it was amazing to see the autos merging and crossing intersections without incident. Car horns warned of approaching vehicles and it was apparent that autos had the right of way. Numerous luxury hotels, shops, and businesses lined the cliffs overlooking the ocean. Cliffs were covered with flowers and shrubs and the drop-off was dramatic. Skies were overcast with a temperature of 70 degrees.
The official tour started at 12:30 pm with the arrival of Carlos Lazo, our guide from Adventure Life who was to be with us for the next 10 days. Carlos, a resident of Arequipa, proved to be well organized and a fountain of knowledge regarding past and present history of Peru, culture, birds, fauna, flora and public policy. At 1:30 pm we boarded the Cruz Del Sur bus for the 4-hour drive down the Pan American Highway to Paracas. The commercial bus had 2-levels with the lower level containing 12 large reclining seats. The provision of food and beverages, pillows, blankets and television ensured a pleasant trip. South of Lima, the Pacific Ocean provided a sharp contrast to the squatter villages populating the arid hilly terrain to the east. Further south, the sky turned blue as we entered the agricultural area. Irrigated fields producing cotton, corn, potatoes, onions, avocados, and asparagus as well as a variety of grains were visible. Fishing and agriculture are the most important sources of livelihood although tourism is now growing. The area is also susceptible to earthquakes and tsunamis, the latest being a 7.9 quake in 2007.
We arrived at the La Hacienda Hotel at 6 pm. Unfortunately, we missed sunset over the bay with sunset occurring at 5:50 pm. Located on the Bay of Paracas, La Hacienda was a modern, beautiful resort featuring the elements of the Peruvian desert – wood from the huarango tree, stone, and clay. Flowering bougainvilleas surrounded the pool that appeared to flow into the bay. Following a late dinner featuring fresh seafood with Carlos, Sarah and Christopher, we walked around the grounds prior to returning to our room at 11 pm.