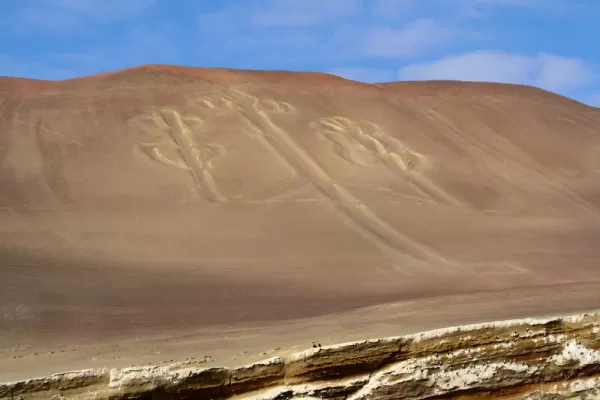 .
Under a cloudless blue sky, we departed from the Colca Lodge at 8 am for the drive to Puno. During the first half of the drive we retraced our drive thru Chivay and over the 16,100 Patapampa Pass, and then headed east toward Puno with its altitude of 12,566 ft. The highway was paved and well maintained. The landscape varied from dry and flat, to rocky and hilly. Mining was important in this area and many large trucks were on the highway. We stopped at a large lagoon and viewed flocks of Chilean flamingoes. We also passed thru the town of Jilicana that Carlos described as a large wealthy commercial area that dealt in much illegal activity (counterfeit products from Bolivia and drugs). The city appeared dirty and chaotic.
PUNO
Arriving from above the city and descending into Puno was an interesting sight. The center of the town was located near the port. Homes were nestled on hillsides above the city, all facing Lake Titicaca. Most of the downtown area was small and could be seen on foot. The main pedestrian thoroughfare was full of restaurants, shops, and bars, and connected the Plaza de Armas to Parque Pino. The Cathedral located on the Plaza was large but rather plain and dark.
We arrived in Puno at 3:30 pm. Our hotel room was large and comfortable with a television featuring an English news channel. We enjoyed an early dinner with Carlos, Sarah and Christopher. Dick and I both selected delicious grilled kingfish with sides of potatoes and quinoa. Later Dick and I explored the pedestrian thoroughfare, plaza and surrounding area before walking back to our hotel. The streets and sidewalks were very narrow. Three-wheeled taxis were everywhere. Again, stop signs or lights were nonexistent with vehicles announcing their presence at intersections by blowing horns. Again, we were sleeping shortly after 9 pm.