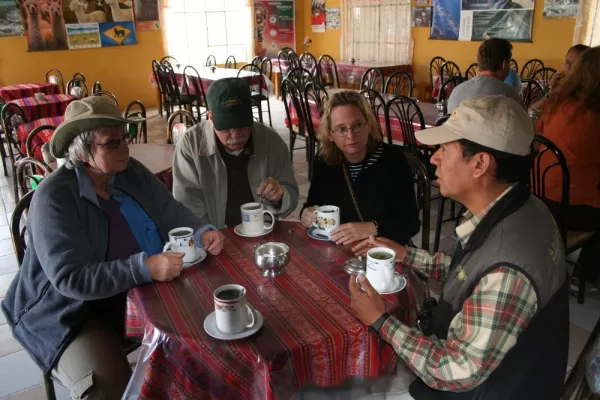 A beautiful sunrise lit up the west coast of Florida as we flew into Atlanta, but the flight was late. We realized that we only had just over an hour to make it through customs, rechecking of our bags, duty and immigration procedures. We weren't sure that we would make it. When we reclaimed our bags, a customs official was moving through the baggage area with a dog that was sniffing the luggage. I realized that I probably had not cleaned the entire coca leaf residue out of my back pack. Sure enough, the police dog smelled the coca leaf in my back pack from thirty feet away, bounded over to my bag, and begin to growl and make a fuss. The young officer asked me what was going on, and I leveled with him and told him that we had chewed coca leaf for altitude sickness in Peru. He laughed and said that his dog had a very sensitive nose for such things, but he checked the entire contents of my backpack anyway very swiftly before he let me go. At that point, I was sure that we would not make our next flight. We made sure that our luggage got put on the right carousel and had the PDX label securely fastened to it. Then we quickly moved through immigration, caught the subway and sprinted to our gate, only to find that they had changed the gate! We quickly found the new gate and sprinted to it. They were just closing the doors to the airplane when we arrived, and we barely managed to catch our Delta Flight to Salt Lake.
The flight from Salt Lake to Portland was uneventful, and we arrived in Portland right on time, but the drama was not over yet! We waited for our luggage at the carousel until every other piece of luggage was taken. It did not show up. Even though we had been personally fast enough to make our Atlanta-Salt Lake connection, our luggage had not made the same connection. We filed a delayed luggage report, and then returned to our house to nervously wait for our luggage. Around 7:30pm, the airport called us to let us know that our luggage had arrived on a later flight. With our luggage safely in hand, we returned to bask in the warmth of our family, and tell the first stories of this amazing journey. When we arrived home, we were amazed to find that we had actually lost weight on this trip. This was the first time that had ever happened!
EPILOGUE
Peru is a land where the sacred elements of earth, sky, water and fire all come together in a meeting of cosmic proportions. Above all else, it is a country of geographical extremes that is experienced richly as one travels through the diverse regions of this intensely beautiful land. A journey to the high altitudes of the altiplano changes one at a molecular level due to the basic physical necessity of providing more oxygen for the body. This profound physical change also produces spiritual change, and affects the way that every other aspect of life is perceived. One starts viewing everything in a different way than they ever have before. In Peru, being alive is a real thing, not taken for granted by anyone who lives there or visits there.
Even though many Peruvians live in extreme poverty, they exhibit a richness of the soul that is evident, but not easily explained. You see it in the beauty of their eyes, and the richness of their culture founded in ancient roots. They live in basic simplicity and go about their lives always with a smile on their faces. Their belief systems are an intriguing mix of Catholic Christianity and a lot of native folklore and shamanic practice. The local people go to Catholic Mass on Sunday morning, and then spend the rest of the afternoon and Sunday evening practicing their native religions. No one can know for certain why historical events brought about the downfall of the great Inca Empire, but today we can see that the resulting Mestizo mix of Spanish and Indigenous culture has brought about an extraordinary race of Peruvian people.
Our Cusco guide, Marco Palomino told us that he would "show us magic" when we toured the ruins, and he certainly did that. We learned that the ruins were so much more than just stones. Our trip to Peru was a fantastic journey in which we challenged ourselves to the utmost, physically and mentally. But more importantly, we made a journey inward, discovering new aspects of ourselves that will change us forever. This is the real Magic of Peru.