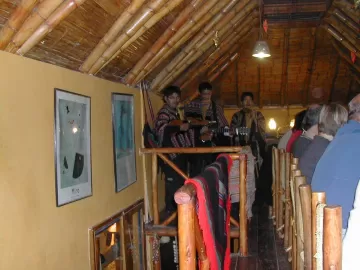 After awakening and getting our showers, we moved downstairs, where we dined on the typical and ample continental breakfast that was provided free in every hotel we stayed at. The typical breakfast consisted of a granola type cereal made up of quinoa, rice puffs and coconut, with great tasting fresh yogurt and a little milk added in. In most places we also had scrambled eggs, delicious pan (unleavened bread) and different jugos (juices) such as orange, mango and other undetermined mixed juices. The breakfasts were always excellent, and always provided us with plenty of energy to start our day.
After breakfast, we traveled to El Chaco waterfront on Paracas Bay to catch our boat to the Ballestas Islands. As we strolled along El Chaco, the very tame pelicans patrolling the sandy shore eyed us suspiciously. On the beach we first encountered very aggressive locals trying to sell us souvenirs as we made our way to the boat. This was to be repeated everywhere we traveled in Peru, as they have become very reliant on tourists. As we took our boat ride on the Pacific Ocean, we noticed that it was much calmer in Peru than in Oregon. As we were leaving the Ballestas dock, dolphins playfully swam circles around the boat. It took us about 25 minutes to reach the Ballestas Islands. Along the way we passed the enigmatic "candleabro", a design etched into the cliffs facing the ocean. There are many theories about who created this design, ranging from indigenous Indians to landlocked pirates. Carlos thought that the Candelabro may be a representation of a hallucinogenic cactus that was widely used by indigenous people in times past, as well as in the present time. When we reached the incredibly scenic Ballestas Islands, we saw lobos marinas (sea lions), Humboldt penguins, pelicans, boobies, four types of cormorants and thousands of other birds too numerous to mention, all flying in the cold Pacific air. The rock formations around the islands featured beautiful arches carved by the waves, and they were stunning. The real adventure started when we returned to the dock, and my glasses went flying off my head directly into the bay when I stepped off the boat and took off my new Tilly hat! Luckily, the water was not too deep. But after repeated attempts to snare them with a long fish pole, boat Capitan, Manuel Molasquez, gave up, took off his clothes, put on a swim suit and mask, and dived down off the dock into the cold Pacific. As I anxiously watched, he managed to find my glasses on the murky bottom and retrieve them for me. Thank God! Without glasses, the rest of the trip would have been one big blurry headache for me. He received a generous tip, but I think that he would have done it for free; they are such generous and amazing people here! After leaving the dock, we lunched at the nearby As de Oros ,(Ace of Gold) a first-class seafood restaurant. There for the first time, we ate ceviche, which is raw fish cooked in a lime solution. We tried cebiche mixto-pulpo (octopus), and conchas Pollo cuaso, which is conch and chicken. Those who were not brave enough to try the ceviche, dined on Pollo Paulta, which is a chicken and avocado dish.
PARACAS RESERVE
After lunch, we traveled to the Paracas Reserve and explored this vast desert wasteland. Carlos had told us that the deserts in Peru were cold in the early morning, ranging from around freezing to 40 degrees at 2am. But they rapidly rise in temperature to the 80's and 90's by mid morning. Our first stop was the Museo JC Tello, where we viewed ancient mummies, pottery and artifacts of the Pre-Incan Paracas culture. There we saw examples of how they purposefully shaped their heads into oblong cone shapes by employing primitive brain surgery and inserting metal plates. This process was called "trepanation". After our museum visit, we took a short walk to a "mirador" where we viewed Chilean flamingos hanging our in the distant bay. We concluded our Paracas visit by taking a short hike through the sand dunes exploring the fossils, colorful rocks and interesting geology. It was a rock hunter's paradise. Eventually, we came to a cliff top lookout where we saw the "Paracas Cathedral", a beautiful arched rock and sand formation jutting out into the ocean.
Later that afternoon, we took another Ormeño bus to Nasca where we checked into the Hotel Majoro, located out of the way on a dirt road near the Nasca Airport. The hotel was an indescribably beautiful colonial hacienda with magnificent flower and vegetable gardens, beautiful dining areas, a great swimming pool and an attractive outside bar area. As we wandered through the spacious grounds, playing with the llamas and peacocks, we saw broken bottle glass cemented on top of the walls as well as small thorny cactus plants growing on top of walls to deter intruders. Before supper, Carlos taught us how to play "Sapo", a Peruvian game that features a brass frog that you throw weighted discs at. The discs fall through various holes and you score points. It was very fun!
At supper, we ordered up the ever-potent Pisco sours from the friendly bartender who had took a liking to us, and enjoyed Cancha, a type of corn tostados served as appetizer. Then we moved on to our more traditional Peruvian fare, and ended with lucuma, a type of peach flavored ice cream that Carlos greatly favored. It was elegant dining. We were attended to by polite Peruvian waiters waiting on us hand and foot, as we were the only guests in the hotel that night.
(*Note: Sadly, much of the area described in this part of the journal, including the hotel we stayed in, was destroyed in the Peruvian earthquake that occurred on Wednesday, August 15, 2007)