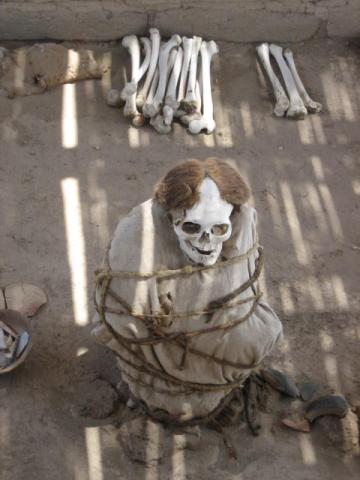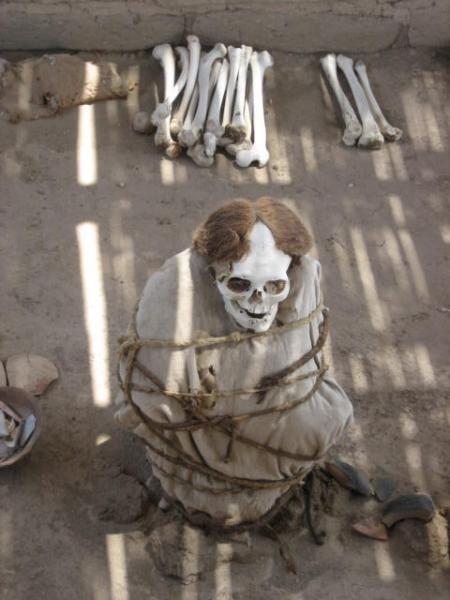 Karen woke up this morning 95% normal, and raring to get back into action. After a hearty breakfast, we took a tour to the Uris Floating Islands on Lake Titicaca. It was a great outing. The sunny weather and the huge blue, blue lake filled with all kinds of sea birds made for an enjoyable experience getting there. When we reached the islands, we disembarked onto what can only be described as a big floating reed covered raft with houses built on it. Everything on the islands is built out of the tatora reed, and they also use the reed as a food. A native gave an excellent demonstration of how the islands are constructed and maintained. Karen was invited by a native into his Uros hut to see his battery powered television and lamp. He was proud of the fact that he was the only one on the island to have such technology. We traveled between islands on a boat that was built out of reeds and featured a puma-like head in the front of the boat. Two natives rowed us. We all felt very primitive.
After returning to Puno, Karen was feeling better all the time, and wanted to make up for lost time. So we started a walking tour of Puno using a map that the hotel had provided. As we relaxed in the Plaza de Armas and viewed the Puno Cathedral, we let a bicycle taxi driver talk us into taking us on a tour of the city around the streets of Puno in his two-seat bicycle The bicyclist quoted 10 Soles for the tour, which was about four US dollars. We thought that would be a good deal, so off we went. About midway through this tour, we stopped and toured the Yavari, a naval boat that had been shipped piece by piece over the Andes so that Lake Titicaca could have a military presence in the late 1800's. There we met Maximo Florez, the Captain of the ship, who proudly extolled the virtues of the Yavari. We really enjoyed the boat tour and it gave our friend the taxi cyclist a chance to rest. Can you imagine this small Peruvian guy pushing Karen and I all over this hilly high altitude city? We are not the lightest people, you know! He did take us into many places in old Puno that regular tourists do not, or would not go, including the local market that only the locals use. At times we feared for our lives as the crazy traffic screamed all around our bicycle! We were not too surprised when at the end of the tour our cyclist wanted to charge us twenty US dollars instead of only ten Soles. I argued weakly to let him know that it was a bit of a scam, but didn't protest too much as he certainly had earned the money. After the tour, we ate an afternoon lunch at Don Piero's, a highly recommended, but not very good restaurant near our hotel. Late in the afternoon we met up with John and Barbara who had pictures and tales to tell of their exciting trip to the islands.
That evening we had our last supper and farewell meeting with our guide Carlos Lazo. We realized that Carlos had been a superb guide and had become a personal friend. He told us about the rest of our trip, and our new guide Marco, who we were to meet in Cusco.