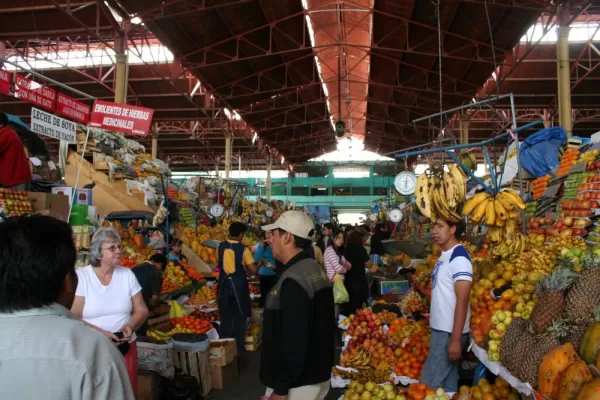 The usual cacophony of bells was ringing throughout the city of Cusco, and as usual, celebrations were happening everywhere, as exploding fireworks awoke us a 6am. We went downstairs to enjoy our last continental breakfast. We met Barbara and Jon at breakfast and were glad to see that Jon had recovered from his sickness. We could hear bands playing in the distance, and children were out of school because it was Saturday. It was a festive atmosphere as it always is in Cusco.
Our airport transport driver showed up right on time, and we rode to the Cusco airport and quickly moved through the departure gates, making sure that all our luggage got checked to Lima. The airport officials made sure that we paid our $8 US airport departure tax, and we took off right on time on LanPeru Flight #2902, starting our two days of flights back home. We arrived at the Lima airport just after 1:00pm, successfully retrieved our luggage and met Charles (pronounced Char-lays), the transport driver who was to take us to the Carmel Hotel to wait for our red-eye flight later that evening. John and Barbara had met friends in Lima who were visiting with them until time for the flight. When we greeted Charles, we were met with a blank stare, and we realized that he spoke no English! We didn't realize at the time that Charles thought that he was to escort all four of us, so he was waiting for four people. He mistakenly thought that we were John and Barbara. It was a monumental language barrier problem, but after 15 minutes of broken Spanish, I finally got through to Charles that we were the Greigs, not the Wises! We then quickly moved to his van, and we were speeding through the streets of Lima to the Carmel Hotel. As he drove, Charles and I chatted in Spanish about his Argentinean background and the "loco" drivers, especially the "taxistas" (taxis) that hurtled down the streets of Lima. At the end of the trip, I gave Charles a very generous $20 US for his transport because all I had left were $20 bills. He was very happy.
We stayed at the Carmel Hotel lobby while waiting for our "red-eye' flight back home. The hotel stored our luggage, treated us very well and did not charge anything for it. At the hotel, we a met couple from Grants Pass who had just finished a tour of the Amazon. Their tales about bugs, snakes and humidity convinced us that we could wait a little longer to make that trip! Later that afternoon, we ate at Norkys, an upscale restaurant across the street from Carmel Hotel. Even though we dined lavishly with a bottle of wine and a fancy desert, we still only spent about $35 US for the entire meal. Peru is a very inexpensive place to tour! I felt very out of touch with American culture, but it was amazing to see how many Americans were coming to the lobby to check the internet to see how their favorite football teams were doing.
We were not surprised to see Charles show up to take us back to the airport at 9:30pm. We had another pleasant conversation in Spanish on the way to the airport, and Charles got another $20 payment. When we entered the airport, we were shocked to see the huge line at the Delta check-in that stretched for hundreds of feet. We needed all of the more than three hours to get through the line, and proceed through security, duty and customs. When we made the last stop to pay our $28 US departure tax, we found that without warning or notification it had increased to $30.50 US. We were only trying to survive at that point, so we paid it and managed to make it onto Delta Flight #274, where we settled in at just after 12:30am, Sunday morning, for our long flight back to Atlanta. It was a maddening airport experience!