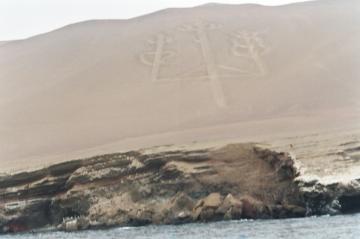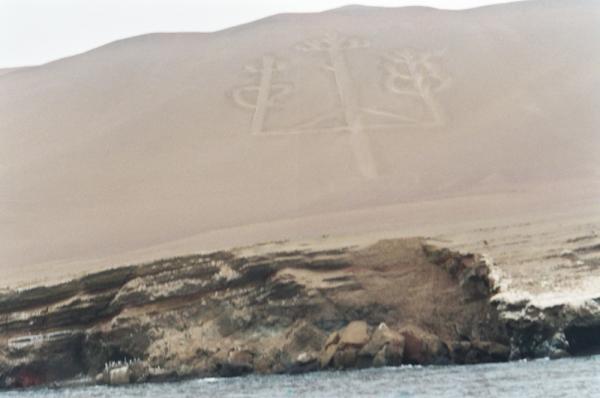 We were sleeping soundly when we were shaken awake in our Hotel Meliana room by an earthquake at 4:40am. We mentioned it to our waiters as we were enjoying the usual excellent continental breakfast in the Hotel Meliana courtyard, but they didn't seem to think that it was any big deal. After breakfast, we checked out, and met Agusto the able, friendly, big-hearted Quechuan who was to be our Colca Canyon driver, and the best driver that we would have. After leaving Arequipa, we soon learned that the easy part of the adventure was over. First we stopped at a local store on the outskirts and bought 6 liters of water, some coco candy and some regular coca leaves. We learned that the coca leaves are used by the natives and everyone else to combat the certainty of altitude sickness. We also bought some toothbrushes and toothpaste to give to the school children at Vizcachani School, in Colca Canyon.
Next, we made an arduous trip in our Mercedes Benz van traveling ever higher, and eventually leaving the pavement onto ever deteriorating gravel roads. We drove through the Aguada Blanca and Reserva National Salinas, traveling higher into the highland puna as they call the shrub lands and grasslands that act as a sponge for the Andean rains. Soon we saw wild vicuna herds roaming freely on the high altiplano (high plains). Carlos told us that vicunas have an 11 month pregnancy and have one baby a year. They can run 60 KPH. We also saw large herds of different types of llamas and alpacas. The two types of llamas are the klacla which is long eared; and the chapu which is short eared. Llamas have long necks, no face fur and short hair; their tails are up. Alpacas have long hair, "suri"-web type feet and like to get their feet wet. Alpacas are smaller, their ears are up, and their tails are down. There are two types of alpacas: luacaya- long eared; and suri-short eared.
As we rode along, we noticed that Agusto had a feather attached to the windshield of his van for protection. High on the altiplano, we stopped at Pata Wasi, a rustic grocery store-cafe and had our first cup of (required) coca tea; it was a special blend of three herbs, chachacoma, muma and coca leaf. Believe me the flavor is nothing to brag about. After leaving the store, we traveled on ascending ever higher before stopping at Bata Pampa, the highest point to stretch. There Carlos told us about Ichu- the yellow grass that grows prolifically on the altiplano. It is basically wild quinua with tiny seeds. At that point, Carlos casually informed us that it was 16,200 feet where we were standing! No wonder we felt so short of breath from walking such a short distance! We noticed thousands of stacked stones scattered widely across the altiplano at this high point. Carlos called them the apechitas and said that the stacked stones mark sacred vortexes and energy points according to quechuan belief. By now, Carlos knew us well enough to feel confident about telling us about his belief system, which was deeply rooted in quechuan folk lore, healing and shamanism.
After we left the high point, Carlos instructed us on the proper and ritualistic way to chew the coca leaf. You take three leaves as a base in your left hand and then slowly layer in more leaves. In the middle, you add a small piece of ash rock, and then put more leaves on top of the rock until you have a formidable pile of leaves. Then you stuff the whole thing into your mouth and chew it for at least twenty minutes. After about ten minutes, you notice that your cheek and gum is beginning to get numb. It is then that you know that it will be effective against the "Soroche", which is what the locals call the altitude sickness. We all rode along chewing the leaf and listening to Carlos's Peruvian music, which consisted of local musicians playing big pan pipes called toyos, a guitar called a charango often made with armadillo hump, middle sized pan pipes called sampoñas, small pan pipes called sicuris, two types of flutes called quenas or darous, a bombo which is a drum made with alpaca leather, and a cha cha which is an instrument made from alpaca or llama nails on a wrist bracelet shaken like maracas. The music was exotic and beautiful and greatly enhanced the voyage through the high regions.
Bumping along on the gravel roads, we stopped at Vizcachani School and gave the kids toothbrushes and toothpaste that we had purchased earlier for them. It was great to see the excitement on their faces and the delight of the teacher as we handed out the tooth brushes and toothpaste. We noticed that due to the effects of the dry, desert altiplano, the Vizcachani kids had skin conditions and need creams. We promised ourselves that we would send them some when we got home.
We traveled on, and finally arrived at Chivay, the gateway city to Colca Canyon. There, we experienced an amazing buffet lunch at El Balcon de Don Zacharias, sampling things such as alpaca, lamb, ostrich, guinea pig (cuy) and numerous other foods that we were too scared to ask about. Karen told our guide Carlos that she just couldn't eat the guinea pig with its head and feet still on, and its eyes staring at her. So he had the cook cut it up and put it in a bowl for her. Unfortunately, when she reached for a cut up piece of the Cuy, she found that she had still selected the head! It was a memorable lunch.
After lunch, we traveled on to the Colca Canyon Lodge, crossing a dangerous bridge with tree limbs being utilized for reinforcement. It was a scene right out of Romancing the Stone! We checked in at the lodge, and walked to our rooms to find that they were musty rooms that we knew would cause allergy flares. After settling in, we then traveled a rocky path down to the hot springs and enjoyed a dip. The hot springs featured three natural pools with temperatures that ranged from warm to hot to very hot. After the hot springs dip, we enjoyed a very good dinner at the lodge, dining on chicharrones, which are deep fried chunks of pork. That night we experienced intermittent sleep, waking every two or three hours. Our guide told us this was a common symptom at high altitude.