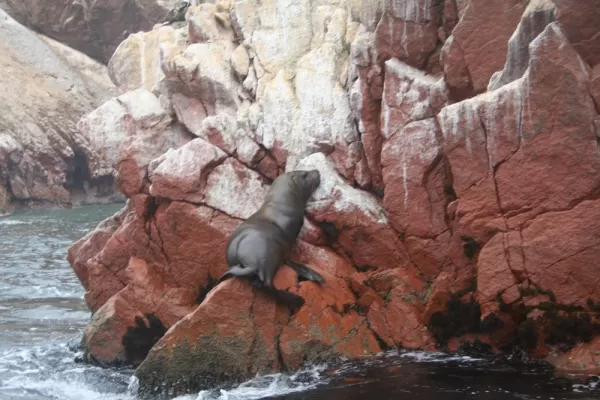 Karen definitely encountered the full Peruvian experience with her "Soroche", altitude sickness. On Saturday she was still in bed with nausea, diarrhea, headache and fever. What a bummer! The very nice hotel manager sent some oxygen up to the room to counter the effects of the sickness, and that started a gradual improvement in Karen's condition. We were lucky enough to be traveling with Barbara Wise, who is a nurse practitioner, and the hotel manager also was an expert at handling this problem. They assured us that this would soon pass, and Karen gradually did improve throughout the day.
Our fellow travelers,John and Barbara Wise, traveled with Carlos to Amantanti Island where they stayed overnight with the islanders. On Sunday, they were to tour Taquille Island and then return to the Hotel to meet up with us again. They hated to go without us, but it could not be helped. Since I wanted to stay with Karen, Carlos arranged an alternate tour for me. Later in the afternoon, I toured the Sillustani Ruins that featured pre-Inca burial chambers sitting high on a hill overlooking beautiful Lago Umayo. It was very interesting to see how these ruins neatly coincided with all the other ruins that Karen and I have seen in Mexico and the Southwest. After that tour, the guide took us to a working Peruvian stone house farm where we got an up close and personal view of how they eke out a living. It was interesting to see the guinea pigs being raised in a stone walled pen for food, and the well-trained llamas. The farmer gave us a demonstration of how they grow their potatoes all by hand with primitive implements. He took me inside his sleeping quarters to show me how he made his bed mattress with tree branches. Later he showed me how he keeps his llama herd in line with a sling shot! Boy is he good with that sling shot!
I enjoyed the tour, but have to admit that I missed my traveling partner greatly. However, when I returned to the hotel, I was heartened to see that she had really improved. She continued to rapidly improve throughout the night which lessened our concern somewhat. Since we had spent so much time at the hotel, we had made good friends with all of the clerks, waiters and managers. They were all very happy when Karen ventured down for some "pollo dieta" (chicken soup) that evening.