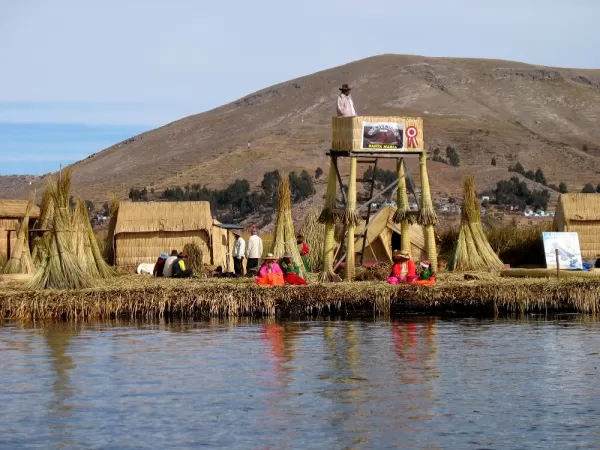 I woke up this morning to find Grant had been suffering all night with altitude sickness, headache, inability to sleep, and finally nausea. I headed down to the front desk to explain. "No problemo" they gave me some mystery pills and sent up a tank of oxygen for Grant to use for about 20 minutes and pretty soon he was as good as new!
We left early with our guide, Juan Carlos and headed for the docks and our boat to the islands. We got there by tricycle taxi, which was pretty fun. Fortunately for the guys pedaling, it was all down hill.
At the docks we stopped at the market to buy gifts for our host family. Our guide suggested oranges as during the winter fruits high in vitamin C are scarce on the island. We also purchased rice, sugar, and milk.
Now a few interesting facts about Lake Titicaca, as I mentioned earlier it is the world's highest navigable lake at 12,725 feet above sea level. It separates Peru from Bolivia and has a surface area of 3,100 square miles. According to legends it is the birthplace of the Inca civilization. During the Spanish conquest the lake was allegedly a secret depository for the empire's gold, and there were some recent aquatic expeditions who found gold figurines and other precious items. In 1961 Jacques Cousteau used mini submarines to explore the depths of the lake and while he did not find gold, he did discover (much to the amazement of the scientific world) a 24 inch tri colored frog who never surfaces!
Now back to our boat ride. About 30 minutes out from shore we entered the Totora reeds. Here we stopped at one of the floating islands of Uros. The islands are man made from the Totora reeds as is almost everything else on the island including their homes and boats. The islands last about 40 to 50 years and there are about 30 of them with a population of 2000. About 15 years ago they got solar power and now have lights and some radios. We got a quick lesson on how the islands are made then watched the women preform a re-enactment of the bartering process. Afterwards a woman named Rita showed us the inside of her tiny Totora home. She was proud to show it off and as we admired the hand made clothing inside she insisted on dressing us in the local clothing. We then admired the handmade goods the women made and purchased a beautiful wall hanging. We took one of the Totora boats to a nearby island and all too soon it was time to continue to Amantani Island where we would spend the night.
From Uros island to Amantaní­ is a 3 hour ride on our slow boat. Once we arrived at the docks we divided into groups of 2 or 3 and were assigned to our families. Grant and I and our guide Juan Carlos were assigned to Mary Elena and her family, father Antonio, mother Luisa, and brother Juan Carlos. We walked about 20 minutes uphill to the house and the altitude had our hearts pumping and we were panting hard by the time we got there! It's humbling to think you're in decent shape and a short uphill walk kicks your butt.
The house was a small two story built around a beautiful courtyard with a incredible view (shown in the photo above). A friend who heard I was in Peru recently quipped to me, "how do I get your life of travel and luxury?" Well, it's true I am traveling, but luxury... The house has no running water and minimal electricity which comes from the town's solar panels. There is no place to wash your hands or take a shower. It's an amazing experience but certainly not luxurious.
There were many flowers planted around the house many who looked very much like some we have in CA, Geraniums, Gladiolas, and something resembling a fuchsia which is the national flower. We were shown to our room which had a door that was only chest high, which is common for the buildings on the island. After relaxing for awhile we had lunch which was Quinoa soup, fried cheese, boiled potatoes, and fresh sliced tomatoes. We drank Muna tea which is made with Muna leaves, a plant that only grows above 9,000 feet. It tasted like peppermint.
After lunch was another uphill heart pounding walk to the local school yard where we played soccer. I hadn't played soccer in years and it was really fun even if it was at nearly 13,000 feet above sea level! Afterwards there was an optional hike 40 minutes (straight up) to the top of the hill to view the sunset. We decided we had done enough on our first day at altitude so we hung out chatting with some nice college students from Lima.
That evening we had dinner with our family, more soup with rice and tomatoes on the side. Then it was time to get dressed for the fiesta. Mary Elena brought us local clothing and we went to a nearby building were the "band" was playing traditional music. The instruments included panpipes called Sampo, the Bombo (drums), and the Charango (a small 10 stringed guitar). If you know the famous Simon & Garfunkel song "El Condor Pasa" than you know the flavor of music we heard that night.
There was also a lot of dancing, we all danced for awhile then we got to watch some traditional folk dances performed by the locals. The dancers were fun to watch and everyone had a great time. We were so tired when we got home we almost didn"t notice how bitterly cold it was!