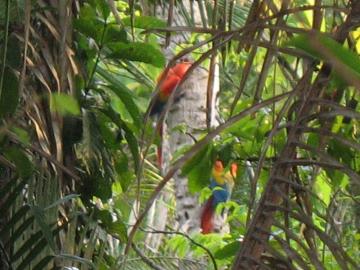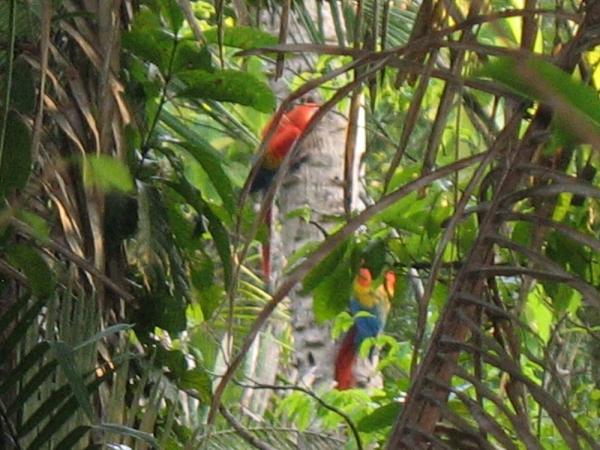 Today we went to the Cusco airport to fly to Puerto Maldonado which is in the Amazon jungle. Our final destination is Lake Sandoval Lodge which is know for a family of Giant River Otters who live in the lake. There are only about 900 Giant River Otters left in the world, all in South America, and 400 of them live in Peru. Lake Sandoval has a family of 5 adults and 2 4 month old babies.
It was a short flight and as we stepped off the plane the warm humid air enveloped us like a blanket, no more cold nights here! We got our bags and met the representative from Lake Sandoval. After collecting 7 other people who were also heading to the lodge we drove into town to the lodge's main office. Here we had to store most of our baggage and pack a maximum on 9 kilos (about 20 pounds) into a duffle bag that we could take to the lodge. After repacking we drove to the river and boarded a wide motorized type of canoe with a canopy for a 30 minute ride down the Madre de Dios river. During the short trip our guide handed out sack lunches which consisted of a delicious vegetarian rice dish cleverly packaged in a folded up plantain leaf, what a nice way to start a trip to the jungle! Along the way our guide gave us general information like what lives in the river; Electric eels, Sting Rays, and huge catfish. We passed an interesting looking boat, turns out it was a gold mining operation. Gold particles get washed down the river from the highlands and settle in the silt, where people mine for it on the river banks.
We docked on the shore then hiked 3km (1.8 miles) to a narrow canal where we hopped aboard a long canoe. The channel opened up into Lake Sandoval, and we paddled slowly around the to lodge looking for wildlife along the way. We saw small turtles basking in the sun on logs, a baby boa curled up in some tree branches, and a couple of Egrets and Cormorants. At one point we could hear the Giant River Otters fighting over fish, but they were in the protected area of the lake so we couldn't get close.
We arrived at the beautifully crafted wooden lodge and gathered in the lobby for a welcome drink of Passion fruit juice, yummy! We got our room keys ten had some time to unpack and relax in the hammocks in the screened in porch.
At 6 pm we met our guide, Victor, and went for a night walk in the jungle. It was fascinating how much you could see when you knew how and where to look. Using our headlamps we would scan the foliage until we caught the eyes of a critter, they would light up like glow in the dark beacons then Victor would zero in with his flashlight and explain what it was. One of the first animals we saw was a baby bird that had probably fallen from his nest and had decided to roost on a small branch at chest level. On the walk we saw MANY spiders and some of them were HUGE! Crab spiders, a Wolf Spider, enormous grasshoppers longer than the palm of your hand, leaf cutter ants everywhere. Some 2.5 inch long ants called Giant Hunting Ants who are carnivorous, a Smokey Jungle Frog the size of a softball, and close the the lodge on a tree was a pair of courting Tarantulas! It was awesome!
We had dinner with the rest of our group which consisted of 2 German couples and a small group of friends from the Bay Area. We hit it off with the Bay Area folks and enjoyed their company for he next couple of days.
At bedtime we slept under mosquito netting which was like being in a princess bed with a canopy. Great place, and I can't wait for tomorrow!