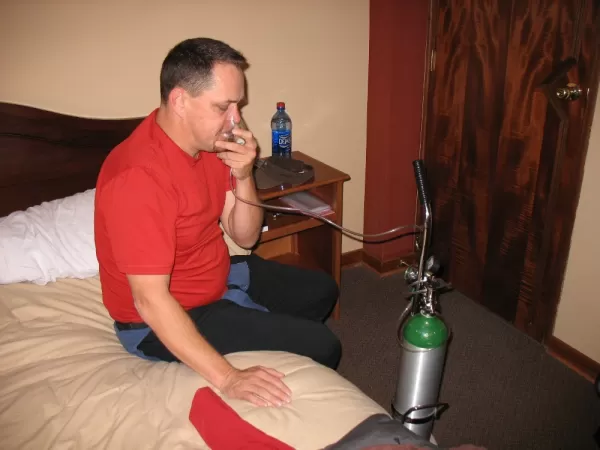 Here's todays lesson on Peru.
Peru is the 3rd largest country in South America, 27 million people live here (9 million in Lima alone). The official languages are Spanish and Quechua. Over half of the population are pure Amerindian origin and many live in remote mountain areas still speaking Quechua or Aymara. There are 50 ethnic groups who live in the Amazon region some of whom still shun contact with the outside world.
Peru is a country with huge variety. Of the 103 possible ecological zones identified in the world, Peru has 83. It has major regions: a narrow costal belt which is predominantly desert, the wide Andean mountains, and the Amazon basin which covers half of Peru. Apparently I did not read all this beforehand because I was surprised to see the desert as we flew into Lima which sits right on the coast. Whenever I thought of Peru it was always lush and green.
We won't be exploring Lima until the end of our trip so today it was back to the airport to fly to Juliaca which is the closest airport to our first adventure, Lake Titicaca. The flight stopped in Cusco first giving us a glimpse of what we will see later. We walked off the plane into the crisp high altitude air where everything looks crystal clear. Inside the small terminal a local Andean band played folk music while people waited for their luggage.
We were transported by bus thru the small town of Juliaca which had very narrow streets and lots of bicycles. As we drove thru town Grant pointed up towards the roof of a building were a very large dog stood perusing the street below! As we left town we began to see small groups of sheep and cattle occasionally tended by women in traditional Peruvian garb.
The town of Puno sits at 12,630 feet above sea level and is built along the hilly shores of Lake Titicaca. It too has very narrow streets with 2 and 3 story buildings looming above. Our hotel is very nice with beautiful woodwork throughout and hot Mate de Coca tea as you arrive. The tea is supposed to help with altitude sickness and we enjoyed it however we are relying on our prescription medication to combat altitude sickness. Tomorrow we will start exploring the local area.