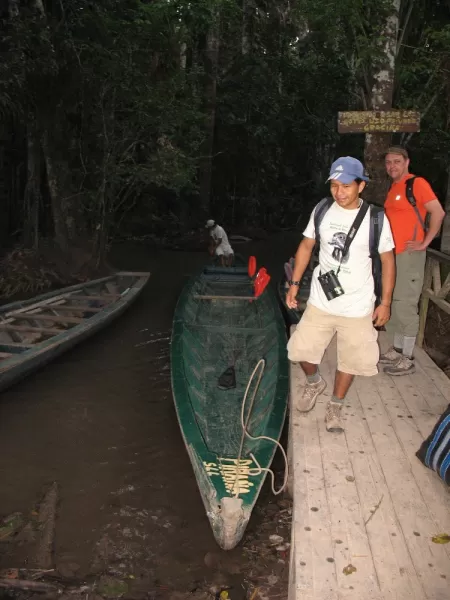 Another early start to the day, we were on the canoe by 5:30 am paddling across the lake to hike to a special Macaw area. Much of the the lake area is made up of Mauritia Palm trees which produce "Pan fruit". While the birds (and other wildlife) eat the fruit there are a few specific species of the palms that have another special property. When the tree dies the birds will eat the soft inner wood of the trunk which provides them with some kind of minerals which help them to process the more toxic plants and fruits they eat throughout the day. Starting around 6 am it is an excellent place to bird watch. We saw Blue & Yellow Macaws as well as the Scarlet Macaws (shown in the photo). The only bummer during our time in the jungle was that my camera, which is great for most shots, just doesn't have the reach for decent wildlife photos. I missed SO many great shots that I'm thinking a new camera is in my future (Morry? Are you still reading this?).
As well as the Macaws we saw White Bellied Parrots, Crimson Crested Woodpeckers, and a Curl Crested Aracari which is a type of Toucan.
At 10 am we walked again, spotting the Casques Oropendola as well as the Red & Green Macaws.
At 4:30 we hit the canoe again and were lucky enough to see the Giant River Otters returning home after a day of fishing. We got the see one of the babies, briefly climb out of the water onto a log, again a great photo opportunity but my shots came out a little blurry, darn it. As we slowly made our way around the lake we rounded a bend a surprised a HUGE caiman. He spent a couple of minutes checking us out and we drifted extremely close, our guide estimated him to be 3 meters (about 10 feet long)!
Right before dinner we took a quick night walk and saw a baby caiman from the shore, as well as a tarantula nest with mom, dad, and babies. Seeing the tarantulas on the trees didn't bother me, but I have to say walking past a nest on the ground and passing within 12 inches of them creeped me out a bit.
One last tasty dinner and 2 passion fruit daiquiris (for me) and a Mojito (for Grant) later and then it was off to bed as we have an early start to tomorrow for our return to Lima.