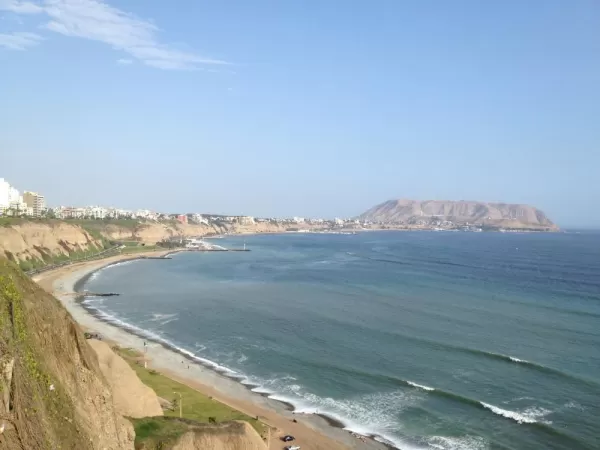 This afternoon, we decided to do some walking around the Miraflores area of Lima. After buying a few items from a street vendor (sunglasses for me, a scarf for Monika) we wandered into a cute little coffee shop to have a cappuccino and an empanada. The perfect way to start our Peru vacation!
We wandered along the Avenida Jose Larco, in and out of a few shops, and eventually made it to the coast! The edge of the Miraflores district is perched on a cliff above the water. There is a nice outdoor shopping mall overlooking the water, but we weren't in Lima to shop. After finding a bathroom and some water, we walked along the coast back towards the north-east, towards the Parque de Amor and the Parque Antonio Raimondi, where we could see people flying off the cliffs – with a hanglide strapped to their backs. As tempting as it was to do a quick tandem flight, we opted to just sit and watch as people prepared to run straight off the cliff's edge.
As we turned around to find our way back towards our hotel, we noticed a group of people slack-lining in the park behind us. I have seen this before, but never to this extreme. These guys were impressive! They were jumping, flipping, hanging, and practically dancing on this teeny little piece of fabric. We sat and watched them for quite some time with the hangliders in the background. I wasn't really sure what we were going to do in the Miraflores district, but this park was certainly an unexpected treat!
That evening, we decided to check out the fountains park. It was a little silly, but we really enjoyed all the different fountains, and seeing it at night was an added bonus. They not only light up the fountains but also do a pretty spectacular laser show on the water. After getting a little too close, and wet, we made our way to dinner at Huaca Pucllana, a ruin site in the heart of Lima. Dinner was superb!