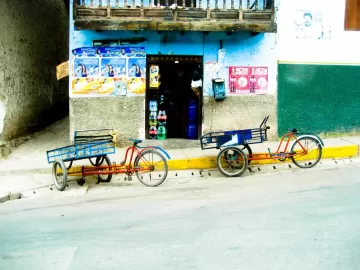 Did you ever wonder how your fabric or lipstick is colored in a deep rich red color? I had a few ideas but little potato bug looking things were not on the list. We attended a live weaving demonstration where the women welcomed us with coco leaf tea and showed us how their beautiful handcrafted items are made. We finally broke down and made our first souvenir purchases.
Next we toured around some ruins before heading off our our first bike ride. We bicycled around Lake Piuvay and finally saw some of the countryside up close and personal as we manuvered around curious children and overprotective dogs. As we were biking we saw our first chickens and I almost missed ours at home for a minute, but it was a fleeting minute.
That afternoon we settled in at our first camping spot in the middle of a little town. As we unpacked our things two local women set up shop right outside our tents. At first we were a little uncomfortable but decided to go with it and buy a couple more souvenirs. That quickly broke the ice and as a thank you they offered us cuy (guinea pig), potatoes, and a nice conversation through our translator who knew a little of the Quechua language. Simon indulged and nibbled cautiously on his first taste of the authentic local cuisine.