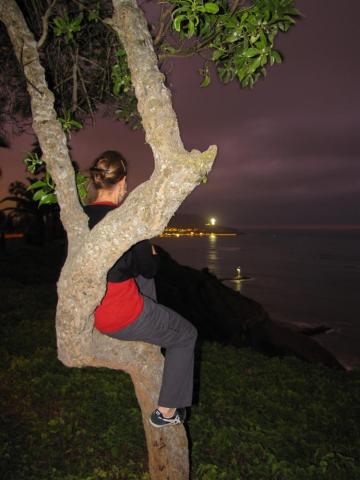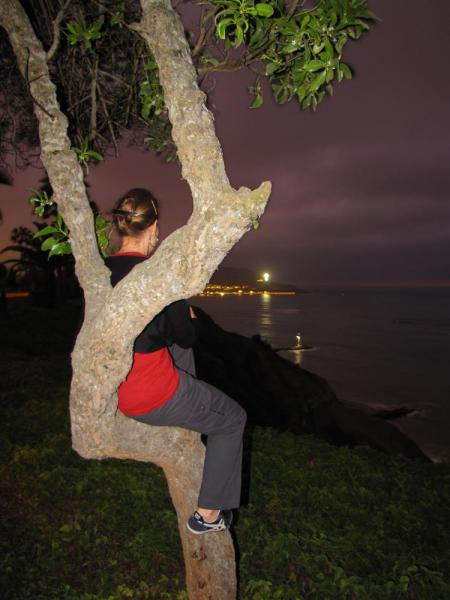 Michele:
I have to admit I was a little nervous about this trek. We would cover over 26 miles in 4 days, with trails mostly going up or down. Nate and I both trained a little bit before the trek, by running and also walking on the treadmill at a steep incline, so I guess I was as ready as I was ever going to be. (Though I was a bit worried about not being able to take a shower for almost 4 full days on the trail.)
We loaded our bags into the van and left Ollantaytambo in the morning. I had a great sleep the night before, as you can hear gurgling water throughout the town, which lulls you to sleep. It took an hour to reach the trail entrance. That is where we met our team of porters and our chef, Augusto. Alberto, Nate and I each had 2 porters to help carry our belongings and gear. Our porters would carry up to 15 pounds of our personal belongings, as well as the tents and other gear. We carried any remaining personal belongings so it made it much easier to hike. I was amazed at how much these porters packed on and how hard they worked. I quickly grew to respect them.
The government is strict about the weight allowance so every porter had to be weighed with their pack on before being allowed to enter the trail. We went ahead, got our papers stamped and crossed a rickety bridge over the rushing Urubamba river to begin the trek on a beautiful and sunny Thanksgiving day. We were all very excited - we were taking the original paths built by the Incas and it was a little mind blowing to think that those paths have survived for hundreds and hundreds of years.
The first few hours were pretty easy going as we walked along a gradually inclining trail, passing a few small homes and huts selling refreshments and snacks and some interesting plants and flowers. Vidal explained that there are a lot of microclimates in the Andes and you could quickly pass from one type of vegetation to another. We saw everything from brown humming birds to the cien anos plant, which flowers every 35-40 years. Every so often we would see donkeys heading down the trail towards us, with their owners running after them.
The trail started to get steeper and more challenging a few hours in. We would stop to see ruins along the way and Vidal would explain all of the history and details about how the Incas lived. Every once in awhile we would see other hikers on the trail, but overall we felt like we had the trail to ourselves.
After a more difficult stretch of trail, we stopped for lunch and devoured our first meal cooked by Augusto -- soup, chicken pie and dessert. It was a good sign of things to come.
Nate:
Not far from the lunch site was our first really challenging climb. The trekking polls were a help, but we seemed to keep going up for a long time. At the top of the climb we rounded a bend and were rewarded with a beautiful overlook of a large Inca site. A river zig-zagged around it and terraces and storage tambos looked well-preserved from our aerial vantage point. An older site with perfectly straight walls and a slightly different wall structure was the basis for our observation point. It was neat to stand on one site and look down on a newer and larger one.
Our next downhill stretch brought us to an area where Vidal took us on a little-used alternative path to another small Inca site where a large structure was still well-preserved. Even the plaster on the walls still remained in some areas. An area about this building had an aqueduct that looked like it fed a bathing area before it continued toward other structures.
Aside from Inca sites, the trail also provided vistas of snowcapped mountains revered by the Inca, active production farms, cows grazing on steep inclines up the sides of mountains, a little boy pulling sheep up the trail, orchids growing out of the stone walls, and beautiful views of nature.
When we finally finished the uphill climb to our camp for the night, our tents were set up and our bags were waiting for us. Thanksgiving dinner started with roasted corn and some crackers and tea. Potato and vegetable soup was followed by a main course of trout, mashed potatoes, and sliced tomato and cucumber. Dessert was a little apple pie. We ate inside the cook tent and discussed politics and religion as well as Inca and Peruvian history. What a surreal Thanksgiving.