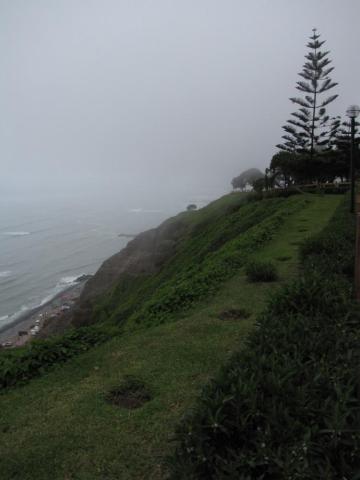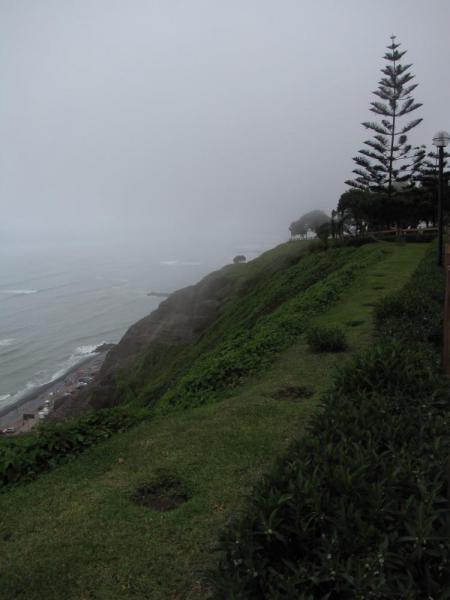 Michele:
We arrived in Lima from Chicago (via Miami) at 7:00 on a misty, overcast Sunday morning. Lima is a sprawling city of 9 million, situated on a desert coast next to the Pacific Ocean. We stayed in a very quaint neighborhood called Miraflores, on the South side of the city, and had the entire day to explore before flying out to Cusco the following morning.
We began our exploration of Miraflores by stopping at a little cafe to get a pastry and coffee con leche. I love coffee, and coffee is very good in Peru, so I started the trip on a high note. The neighborhood offers an interesting combination of old-school boulevards, colonial architecture, and a surprising modern and hip vibe. The edge of Miraflores sits on a bluff with a walkway that winds through parks and overlooks the Pacific; what a view! It was a perfect setting for the many morning exercisers, from surfers down in the water to the dog walkers, runners and bikers up on the bluff. Nate and I tried out the exercise equipment set outside along parts of the walkway.
Nate:
Next we walked in the Miraflores Plaza where we found local artists displaying their paintings. Inside the park, dozens of cats roamed around where children played while others rested in the flower beds. In search of authentic Peruvian cuisine, we stumbled across a restaurant called Lucas 10, tucked down an alley past the bookshop where we had picked up some books on the Incas and Inca history. We ordered two seafood dishes and our first pisco sours of the trip. A pisco sour is one of my favorite drinks and is the national drink of Peru, so Michele and I were anxious to try one in the capital. After we placed our order, the chef stopped by and asked if we would like to try the cebiche (ceviche). How could we say no? What a good call. The cebiche was absolutely incredible and perhaps the best we've ever had. What an amazing first dish in Peru. The entrees were also excellent. And of course the pisco sours were delicious.
After some rest and showers we followed the same route again to the ocean with a slight detour to check out more of the houses in the neighborhood. The fog from earlier in the day had receded and we could see city lights and an illuminated cross across the water in another area of Lima. A cute older couple walked in front of us along the ocean bluff path and painted a picture of how Michele and I want to grow old together.
Back at the Miraflores Plaza, we found a large crowd laughing at jokes and performances by some sort of improv entertainers. We watched for a little while but couldn't translate what they were saying to keep up with their humor. A stop at a nearby cathedral cost us a dollar for a flower fund but also purchased a hug from a Peruvian stranger. Outside was a small little market where we strolled through local crafts of leather, wool, gems, and traditional souvenir items. Nearby, a young girl was learning about the birds and the bees from two loud and feisty cats under a park bench.
For dinner we found a traditional Peruvian restaurant that had good reviews on Fodor's, called Las Tejas. The reviews were well deserved. My lomo saltado was excellent as was Michele's fish dish. Much of the meal was prepared outdoors where we were sitting next to the alfresco kitchen.