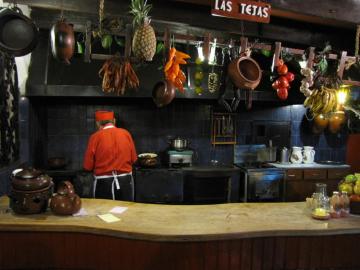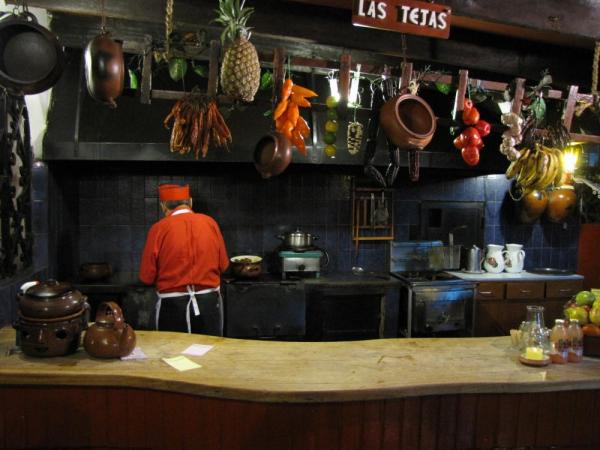 Michele:
Vidal had warned us that this was going to be the hardest trekking day but I was not at all prepared for the intensity of the trail. Our goal was to reach the first of 3 mountain passes we would cross, Dead Woman's Pass, which is also the highest point we would reach at 13,800 feet. We were woken up at around 7:00 by one of our porters, a very sweet older man (who I nicknamed Smiley as he was such a positive man who constantly smiled), who handed us sweetened coca tea and brought us 2 bowls of warm water with which to wash. This would become our morning ritual, which I looked forward to. Augusto cooked us a hearty breakfast and then we packed up and received our snack bag of treats for the trail (which was another thing I looked forward to -- we were certainly well fed). We would always be the last or one of the last groups leaving the campsites as Vidal wanted to make sure we were not walking on crowded trails. There were some very large groups with 16+ tourists, plus all of the porters and cooks, so we wanted to avoid most of those crowds.
We immediately began climbing a steep trail, which involved walking up stone steps set in the ground. Nate and Alberto are tall and able to cover ground faster than me. I had to take a lot more steps to keep up! Vidal has lost count but said he has done the Inca trail well over 600 times (sometimes twice in one week) so he was very seasoned to the effort involved and knew every nook and cranny of the trail. Needless to say, I told the others to walk ahead most of the time as I didn't want to feel stressed about keeping up with them. It was getting harder to climb as we gained altitude. I was amazed at how many older people were on the trail. We passed a group from Austria who seemed to be having no problems with the climb (I assumed they had plenty of practice trekking in the Alps).
This was another beautiful sunny day and I took off layers to walk in a tank top. We started passing through very different terrain and walking deeper in shaded wooded areas next to bubbling springs. I would run into some small groups of 1-3 trekkers along the way and started picking up some tips on how to climb more effectively, such as weaving back and forth up the trail versus walking a straight line up. This used less effort as you would gradually climb the distance. Even though it was physically challenging, it was pretty amazing to walk this old trail through this amazing scenery. We would not pass any more houses after day 1 of the trek so I really did feel that I was far away from civilization. We had a final steep push to get us to our campsite for a lunch break . Even the porters were taking rests along the way. We ate another stellar meal prepared by Augusto and marveled at the distance we climbed as we looked down into the valley we had just ascended.
And then we started the most difficult part of the trek -- the final push up to Dead Woman's Pass. I shuddered as I looked up to the pass, seeing the long, steep trail winding up to it and the little dots representing trekkers nearing the top. We started out and I probably stopped every 20 feet or so to catch my breath as the stairs and trail were very steep.
Nate:
It took at least two hours to climb an incredibly steep ascent to Dead Woman's Pass. In the valley below are beautifully colored llama, alpaca, sheep, and cattle. Vidal also pointed out the Cara Cara Bird and some other birds of prey. The unparalleled scenery was a blessing to periodically take your mind off the pain of the climb.
Sometime shortly after 3 p.m. we reached Dead Woman's Pass (at close to 14,000 feet). This was by far one of the most physically challenging experiences either one of us had ever had. We climbed 4,000 vertical feet in just over 6 1/2 hours. What an accomplishment. It is useless and futile to try and capture in words the beauty that we saw with the mountain range peaks, subtle changes in shadowing, diversity of flora and fauna, and picturesque serenity.
After amassing a wealth of pictures, we began the descent to camp. What we thought would be easy was easier than the climb but still fairly difficult. We spent just over 1 1/2 hours going straight down. That process is hard to your joints. While the climb up to Dead Woman's Pass was sunny and warm, the other side of the peak was cold and windy. Once we traveled down far enough, the wind died down and the temperature rose again but we were still above the clouds. The image was very surreal and eerie as we watched clouds constantly move across the area that we were hiking down toward.
Augusto pulled through again and we devoured a solid dinner of soup and some kind of a chicken a la king main dish. The day wore us out and everyone headed to their tents shortly after we finished eating.