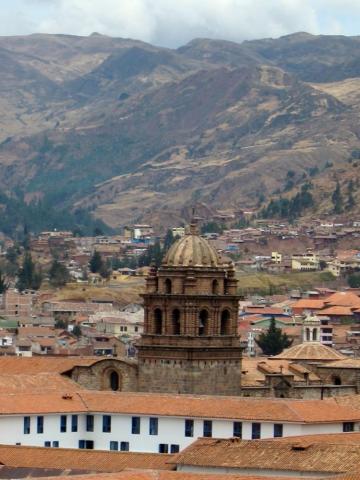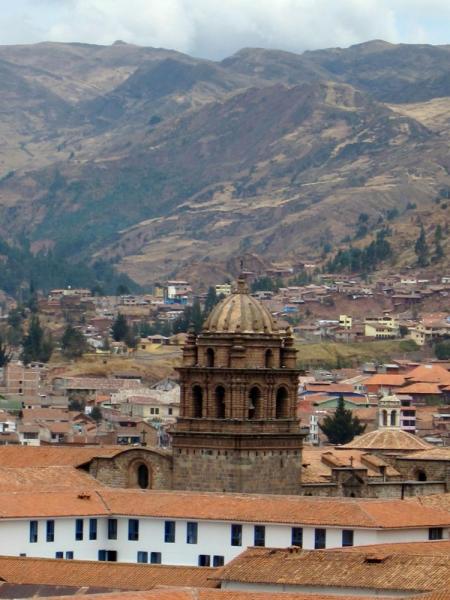 Just as your evening ends pretty early along the Inca trail, I quickly discovered your mornings begin even earlier. Our porters "knocked" on our tent around 6am. They had two coffee cups, hot water and an assortment of hot teas/coffee. Room service, Inca trail style!
Shortly after the porters brought the coffee, they once again brought warm water to wash up with. Breakfast consisted of a hearty breakfast of french toast, eggs and bacon. Augusto once again gave us an assortment of delicious snacks.
We quickly set out, eager to tackle "Dead Woman's Pass". Day 2 on the trail is unforgiving. Unlike the previous day, with rolling ups and down, Day 2 literally consists of hiking 4 hours uphill. As you hike uphill, you pass through different microclimates/vegatation zones. In the beginning, you pass waterfalls, see colorful orchids and mossy trees. As you continue to climb, you move to a drier, arid climate. The vegetation is brown; visibility is poor due to the clouds.
I found myself ahead of my mom and Teddy for the first two hours. The trail is very tough. As I walked along, I could not help but remind myself that I paid for this torture! Not only are you walking uphill, but you are forced to walk uphill over uneven steps. As you climb, you feel the air getting thinner. As you climb higher and higher, every step seems to leave you gasping for breath. There were some parts where even the porters appeared winded!
There were several large groups on the trail. I was very glad we were not with them. It seemed like the people in these larger groups were always either rushing to catch up with the group or waiting on the slower group members.
Since the hike was so physical, neither my mom nor I did much talking (more like panting) as we trudged along. There was no thought of putting my ipod on. Teddy chatted the entire climb up. Not only was he an excellent guide, but he was quite the comedian. He really had me convinced that there was a café at the top of Dead Woman's Pass.
After 3 hours of hiking uphill, we could finally see Dead Woman's Pass. It looked so close. Little did I know that the 80 or so steps we had to climb would take almost an hour. I'd fall into a routine. Take 8 steps, rest and pant. Take 8 more steps, rest and pant, have some water. After an eternity of torture (ok, really an hour just as Teddy predicted) we finally reached the top where we sat and savored the view of plunging ravines and snow capped peaks. Words can not describe the amazing view from Dead Woman's Pass is!
We watched several people make the ascent. One of the larger groups appeared to be waiting on the last group member to arrive. As she arrived, huffing and puffing up the trail, they cheered… then began collecting their belongings, ready to head out. We felt sorry for the poor hiker. She barely got an opportunity to sip some water before heading down.
The downhill portion of our hike turned out to be challenging as well. The rocks were slippery and it was raining slightly. I was so happy that Teddy loaned me one of his walking poles. After roughly an hour and a half, we rolled into our our campsite. Our porters and Augusto welcomed us with a cheer. Lunch was soup and some type of delicious chicken dish. Since we had arrived at camp around 2:30, we had long afternoon to nap and recover.
While my mom slept, I read. Despite the fact that I was now nearing the end of Day 2 without a shower, without internet/phone service, and had consumed my last coke that I paid a record price of 5 soles for, I did not care. I felt good. I had climbed Dead Woman's Pass!
Shortly before dinner, the porters dropped off more warm water. I washed up, ate another fantastic dinner (how Augusto did it, I don't know) and promptly went to sleep. Day 3 promised to be a enchanting trek through the cloud forest, but also a long day of "gentle" according to Teddy (ha, we'll see) ups and downs.