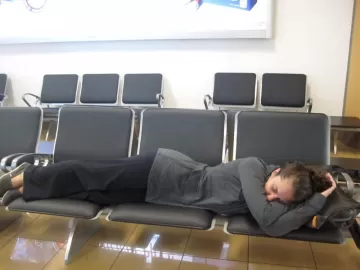 This girl and that guy had a few interruptions between ORD and CUZ, delaying their arrival by 10 hours. But these two know travel is all about adapting to your surroundings, and they happily spent these extra hours at each airport snacking, sleeping and meeting fellow travelers, including a character named Michael from Australia, who immediately pegged them as bloody gringos (direct quote!) and spent hours sharing his stories and experiences from down under. After laughs and email addresses were exchanged, this girl and that guy boarded their final flight. Destination: Cusco.
Peru book in hand, the two adventurers read more about the city they were about to spend the next four days exploring while enjoying Peruvian goodies such as Inca Kola and unforgettable chocolates. Yet everything came to an abrupt halt when this girl stared out the window and saw the rolling peaks of the Andes. Suddenly the city of Cusco came into view in their little airplane window, but it felt as big as the world. The closer the plane came to the ground the more excited, awake and alert the two became. This girl turned to that guy and said: and so it all begins!
The two raced to baggage claim and, while feeling out of breath and winded from the sudden altitude change, located their packs and made their way outside to take in their first glimpse of Peru. This girl and that guy took one look around and nodded in agreement: they were in for an experience of a lifetime! People were coming from left and right at top speed, speaking in Spanish and English, offering cabs and tours and buses and trains! There were brochures and posters and magazines and booklets. Luckily, this girl has traveled abroad quite a few times and knows how to spot the best deal. Within minutes they are zipping through the streets of Cusco in their trusty hired cab, heading toward their first of many resting places, the Munay Wasi hotel. This girl and that guy are breathless, but unsure if it is caused by the views, altitude or driving!
Upon arrival at their hotel, the two Chicagoans are greeted with cocoa tea and warm smiles. Within moments they are settled into their rooms and discussing how to spend their first evening in Cusco. Somehow, between the talk of restaurants and bars and street names, this girl and that guy fell into a deep sleep. FIVE hours later they awaken, full of energy and extremely grateful the city is open late, perfectly fitting for these two night owls. This girl carefully selects her outfit for their first night on the town (to think in a few days this girl will not even think about her attire based on style but rather smell!) while that guy asks the front desk for suggestions. Just like a romantic chick flick, they meet in the lobby of the hotel with smiles on their faces and anticipation in their hearts and head out into the crisp Cusco evening.
This girl immediately pulls out her camera, a brand new Canon Rebel T-3, and begins photographing everything around her... the dusty buildings full of life and wonderment, the narrow streets of endless fascination, the brightly colored local wares being sold everywhere they turned. It is a photographers' dream come true. Meanwhile, that guy carefully navigates the street, dodging locals, tourists, dogs, cars, cabs and any other obstacle that crosses their path, and safely leads them to their destination: The Plaza de Armas. Even though this girl and that guy are famished, they both forget their hunger as they take in the massive stone churches, colorful fountain showing off with its changing light display and people from all of the world, all gathered in this one square in a country far from home. While this girl is taking photographs, that guy purchases the first of many llama based items: a pair of fingerless gray llama gloves for this girl, figuring her hands will appreciate the extra warmth, even while poising the camera for the next shot.
After getting lost in the beauty of the city, they realize they must eat in order to go on and stop off at Urpi for their first taste of authentic Peruvian food, and of course a few rounds of cervezas. This girl ordered a delectable potato dish and that guy feasted on the lomo saltado, a meal these two will order plenty throughout their journey. With full bellies and tired eyes, they went back to their hotel to get a good nights rest; they will need it with the itinerary tomorrow!
To awaken quite alone in a strange town is one of the pleasantest sensations in the world. Freya Stark