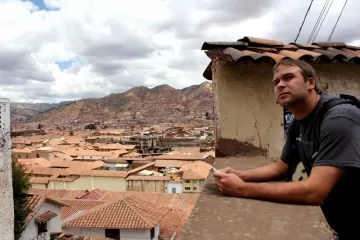 This girl and that guy have traveled quite a bit. They have had experiences that have rocked their worlds, changed their lives and made them appreciate life; however, this day will be forever remembered as one of the best days of their lives.
This girl and that guy awoke to a wake up call of hot tea, farm animals and a hearty breakfast. With another early start, the happy hikers set off with Juan to hike up the massive peaks they viewed while biking the day before. Needless to say, neither one realized what hiking up 15,000 foot mountains would be like! The trip started with passing the sheep herders escorting their animals to the grassy areas to feed all day. This girl met a few young girls along the way, giving them items such as hair ties and headbands, demonstrating how to use them since most have never seen such accessories before. They stopped frequently to catch their breaths, enjoy the snacks from Josef (the wonderful cook) and take in their surroundings. That guy made a deal with himself to not stop until he reached the top, and he sped on ahead. This girl decided to take it at her own pace, making stops as she saw fit and observing the stillness around her. Living downtown in a big city like Chicago, one does not hear utter silence; this girl could only hear the breeze rustling the grass, the sheep talking to each other and the sounds of her hiking boots crunching the dirt. They were on the Inca a trail, a path traveled by thousands of people over half a century ago. A roadway used to take them from Cusco to Machu Picchu. A journey without bikes and tents, cars or buses, airplanes or even a good shoe or backpack. Yet these people from long ago made this trek, and this girl and that guy were now a part of their path forever.
Upon reaching the top, they settled down to snack, explore, reflect and live in that moment of utter beauty before staring the hike down the other side of the mountain, where lunch would be waiting. After over an hour of solitude, each hiker came away from what they were doing: that guy was hiking up other surrounding peaks, trying to get higher and higher with each step; this girl spent her time soul searching, envisioning the lives that have passed this very spot; Juan, the native Peruvian and outdoorsman, napped. Once all three came together again, they started the path down, listening intently as Juan shared stories and information about everything around them. Not one question went unanswered. It was as though they had a walking encyclopedia by their side!
Step after step, moment following unforgettable moment, this girl and that guy made their way to the other side of the mountain while exploring old Inca rest stops and alters, petting llamas, alpacas and sheep and climbing over large rocks adn boulders on the path. They stopped enjoyed another feast in the midst of a former Inca farm before finishing the hike to their next campsite... the ruins of Huchuy Cusco, or Little Cusco. When first approaching these ruins this girl could hardly believe her eyes. Looking down on history, the two made their way down, never taking their minds off of where they will be resting their heads that evening.
One's destination is never a place, but a new way of seeing things. Henry Mille