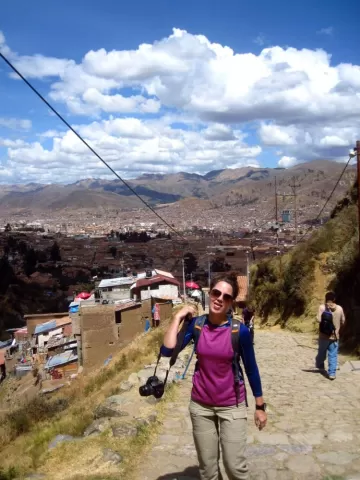 This girl awoke to the sound of their tent rustling. Unsure of what it could be, she gently unzipped her side and peered out. She was immediately distracted by the fog sitting low, slightly covering the Inca ruins that were a mere 100 feet away. This girl began envisioning what it would be like to live in a time where this was civilization; a world without cell phones and internet, computers or cars. To wake up and worry about gathering food for breakfast, not checking your blackberry and picking up the morning paper. As if by plan, that moment one of the horses, the culprit for the tent rustling, decided to pick the tent opening as his new eating grounds. Truly, life cannot get better than this!
After breakfast Juan took this girl and that guy around the ruins of Huchuy Cusco, showing them the single family homes, gathering rooms for guests, meeting halls and other small details. There were even bones being excavated from Inca burial grounds. Juan believed the Incas quickly buried them in this resting place before abandoning the town to escape the Spaniards. While walking along Juan even found a piece of pottery and handed it to this girl as a souvenir! You cannot buy that at a gift shop! After an hour they were on the road again, this time hiking down to the Sacred Valley where they met back up with their team for one last meal. It was a sad day, knowing they would not be with their beloved cook or gentle horsewoman. Yet they trudged on, trying to focus on what is in store for them the next day... Machu Picchu.
This girl and that guy finished their lunch and said good bye to their team and headed to the train station in the magical town of Ollantaytambo to depart for Machu Picchu Pueblo via PeruRail, a train with full panoramic skylights! They even had snacks! The 1.5 hour train ride was luxurious and they passed the time staring out at the Sacred Valley and all of its beauty. This girl also realized that they may not smell the best to their fellow passengers!
Once at MP Pueblo this girl and that guy checked into the nicest hotel, where they were handed the sweetest juice and welcomed with the biggest smiles. And the best part: a hot shower! After cleaning up they headed out for dinner and drinks, pisco sours of course, and walked the streets of the quaint town.Both were slightly distracted, but not from the sounds of children playing football, live music from bars but rather from thinking about what tomorrow will bring...
Travel is more than the seeing of sights; it is a change that goes on, deep and permanent, in the ideas of living. Miriam Beard