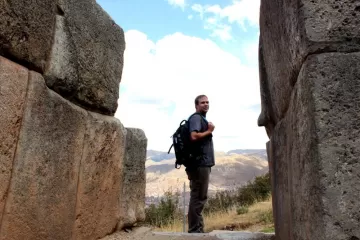 The sole reason for this girl and that guy to make the 6 hour bus ride to Ica was to sandboard/dune buggy. And boy, did they ever enjoy this crazy time!
The day started out like any other day in Ica... sunny blue, cloudless skies, time spent lounging at the pool, a nice lunch of fresh seafood, more time playing at the pool and perhaps a Peruvian cocktail or two. Around 2PM this girl dragged that guy away from the lounger and up to their room to prepare for sandboarding.... with day packs packed up they headed down to the lobby...
Fast forward: what does it feel like to ride a rollarcoaster, but not a a track, with sand flying everywhere, your heart in your throat and feeling exhilarated and scared and happy and freaked out all at the same time? That is called dunebuggy riding.
How about flying (on a wooden board) down a sand dune so big you cannot make out anything at the bottom? Your hair whipping you in the face, sand flying your mouth (because you are screaming!)? That is called sandboarding.
That is the adventure on this day. This girl and that guy loved it. every. single. minute. And at times I felt like I was in the movie Star Wars... which is just plain awesome!
We live in a wonderful world that is full of beauty, charm and adventure. There is no end to the adventures we can have if only we seek them with our eyes open. Jawaharial Nehru