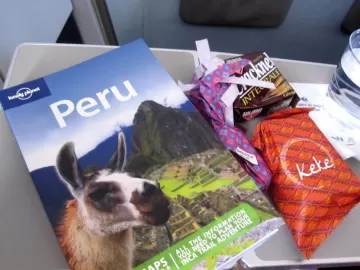 Happy birthday to this girl! Today she embarks on a new decade of her life, and she could not be happier about it! To celebrate, that guy has planned a day full of activities he knows she will simply love! First on the docket is a mini shopping trip to the small shops around the city in search of a one of a kind, original poncho. It was love at first sight, and she immediately selected a darker blue hooded llama poncho AND two pairs of fuzzy, brightly colored knee high wool socks, all of which will come in handy when they reach higher altitude destinations during their travels!
Next stop, the hike up to to Saqsayhuaman to scope out their first of many Inca ruin explorations . As they begin their journey uphill, this girl realizes what the higher altitude does to your body! After quite a few stop offs, snack breaks and any other excuse this girl could come up with, the the happy hikers finally make it to their destination; and what a sight to see! That guy has seen these exact same ruins on one of his TV shows back in the states (Ancient Aliens) and began talking to this girl about what he learned. This girl tried her best to take in his words, but was overcome with awe while marveling at the beauty surrounding them.
A sudden rain shower hit the area, but this girl and that guy found a few activities to keep busy at the ruins. That guy discovered nature's slide, a slick, smooth rock surface, and this girl came across a hidden cave! The best discovery of the day, according to that guy, was the man selling snacks and refreshments, which led them to purchase a few goodies and enjoy them while overlooking the city. Less than an hour later, the sunshine reappeared and they continued on to Cristo Blanco, the statue watching over the city of Cusco.
As evening approached, that guy was rushing this girl along to a surprise dinner location. Upon entering the restaurant, A Mi Manera, they were greeted with first class service, a window seat table and a bottle of champagne from Adventure Life! After breaking open the bubbly and ordering a classic pisco sour, they selected their entrees (llama, by accident, for this girl!) and spent the next three hours devouring a four course meal, complete with a mammoth chocolate cake with sparklers and a five piece Peruvian band singing Happy Birthday to this girl! With tears in her eyes and a smile on her face, this girl made her birthday wish.
The traveler was active; he went strenuously in search of people, of adventure, of experience. The tourist is passive; he expects interesting things to happen to him. He goes sight-seeing. Daniel J. Boorstin