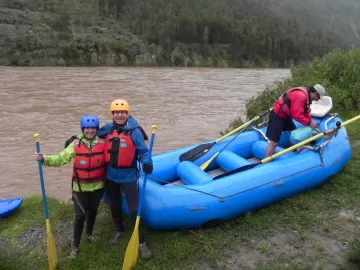 After breakfast, Juan and we tour the Inca ruins just below our campsite. The engineering of the area's water alone it a thing to behold.
And now we begin our downward climb to the Sacred Valley. 2,000 feet down and maybe 500 feet forward. The Inca builders of this trail didn't have the concept of ''gradual descent.'' Whew, I have never been on a trail like this one before. Between yesterday afternoon and this morning, we have dropped 5,000 feet! And all the while, we gaze down at the ribbon-like Urubamba River below.
The horses have passed us and when we arrive at the river, a hot lunch and a van is waiting for us. After the past days of this level of service, why are we surprised?
Next stop: Ollantaytambo train station and then on to Aguas Calientes where we spend the night at El Mapi Hotel. The shower is most welcome after two days on the trail.