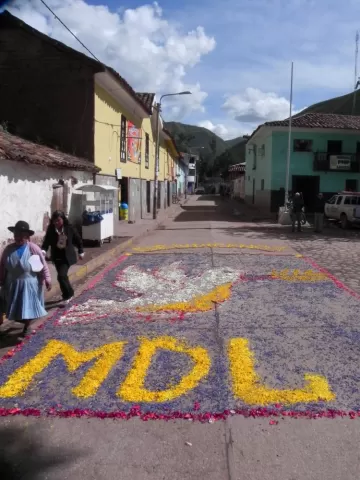 At breakfast, we try for the first time api, a warm drink made from purple corn powder, water, cinnamon, cloves and sugar. YUMMMM!
Marco, our guide for the next three days, meets us at the hotel and summarizes our itinerary. A big day lays ahead of us: a tour of the floating islands of Uros where I get a big, sincere hug from a young girl in exchange for a mango. Marco and we spend several hours learning about the making of the islands, the lifestyle of the residents, typical foods. As we chat, a girl sits nearby and munches the tender end of a reed.
KT and I love to kayak and do quite a lot of it at our home on Flathead Lake, Montana; Lake Titicaca continually reminds us of home. We paddle along the shores of the lake to a wonderful traditional lunch and then cruise three hours to Isla Tikonata. With the entire boat to ourselves, we stretch out , admire views, nap, catch up on journal writing, and learn new Spanish words from Carlos Antony.
Tikonata is a small island with only 30 inhabitants. Our room for tonight is a free-standing circular structure, made of mud bricks with a roof constructed of reeds, a bathroom located across the courtyard, beds covered with thick Peruvian wool blankets. A three-course dinner is served and for dessert -- traditional dances, in which we participate. At 12,000 feet, doing this lively dance takes our breath away.
I have been looking for the perfect Peruvian knit hat and here on this little island, I find just what I want -- colorful, soft as a kitten, beautifully handmade by the same lady that cooked our dinner, cleans the rooms, and who will launch our sailboat tomorrow!