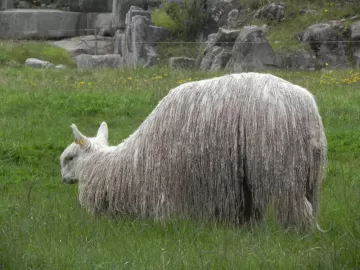 We camped overnight at a small village at the base of the trail we will hike today. The sounds of the day beginning are what awakens us from a great night's sleep -- the braying of a donkey, chickens crowing, sheep bleating, birds chirping. So much nicer than an alarm clock!
Juan and we hit the trail after breakfast, carrying only our day packs. Aurelio our chef, Francisco and Andres the horse wranglers, come behind carrying all the gear.
To describe today's activity as a mere ''hike'' would be so not right. I could write a short book about the landscape, the local peoples and animals we encounter along the trail, and about the Inca trail itself.
At the barren summit, there is a stone carrion where we celebrate having arrived at 14,432 feet. Chef Aurelio has a thermos of hot tea and snacks waiting for us. ''Tea is served, madam.''
On the descent, the flora changes dramatically -- green, lush with vast fields of lupine.
Our camp for tonight is at the Inca ruins of Huchuy Cusco.
With our delectable dinner this evening, Aurelio produces a bottle of Peruvian wine! Much appreciated after a big day on the trail.