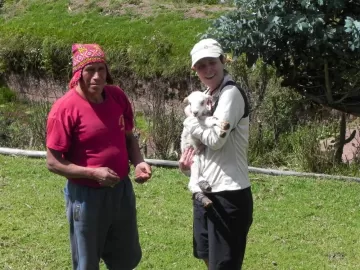 A farewell paddle across Sandoval Lake. As we hike to the river, we hear that mournful sound of the Howler Monkey -- he's sad too that we have to bid adieu.
Cruise back to Puerto Maldonado, and now begins our trip back to reality -- tomorrow we will be home and telling and retelling all the stories of this trip.
On our flight to Cusco, KT and I make a list of the many modes of transportation we have experienced over these 16 action-packed days:
airplane
train
bus
van
car
tricycle taxi
bicycle
kayak
sailboat
wooden canoe
catamaran
motor launch
Avon raft
and miles and miles on foot!
So ends the PERFECT trip -- A gorgeous country; plenty of activity and excitement, which was our goal; delightfully hospitable people; only one day of rain (and that was on the day we rafted and would be wet anyway!); guides and staff who couldn't have been more wonderful, knowledgeable, and amusing. The food exceeded our expectations (we are vegans who eat a bit of fish). And, not one moment of altitude sickness or any other problems. Like we said, ''Perfect''.