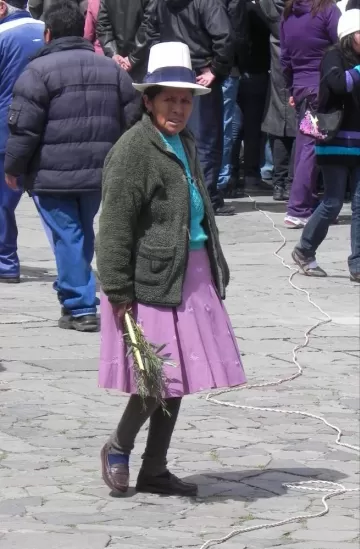 Today we have FOUR people looking after us, ensuring our safety and enjoyment of the activities in store; our guide, Juan; a van driver; Willy, the rafting guide; and Rubio, our safety guide in his kayak (just in case we fall out of the raft :-) The rainy season has just ended thus the river is running high and fast and muddy. Lots of hoots and hollers as we blast through Class III and IV rapids!
At the take out, we have a shore-side lunch, complete with a screened tent, tablecloths, ceramic dishes (no paper plates here!) silverware, and a delicious spread of foods.
On our return to Cusco, we stop in the small village of Lucre where we happen upon a festival taking place. Filling the main street is the image of a dove, completely made of flower petals. The procession arrives from around the corner -- the priest, Jesus on the cross completely encased in flowers, a band, and all the town's folk. It was so special to witness this local tradition, and we were the ONLY tourists!
Back in Cusco, there is a similar festival taking place this evening, but here they estimate 100,000 people are in attendance!!! The crowds fill not only the main square, but all the side streets as well. We are in a small restaurant a block away from the square and are unable to leave until the festivities end -- people are packed against the doors!
While waiting, we chat with other diners and make new friends! Travel lesson: Often the things that seem problematic at the time are the things you remember and talk about to your friends upon your return.