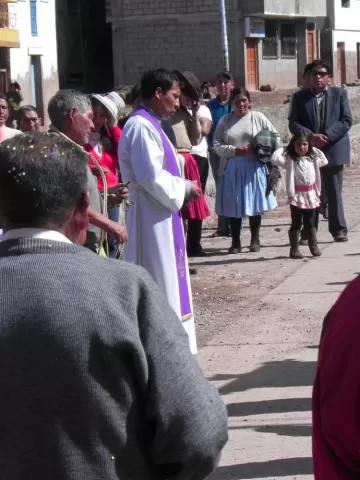 Our friendly boat captain, Narciso, and his son Carlos Antony are from the island of Taquile, and they are all dressed up in their customary costumes for today's arrival. At the island, Marco and we stroll the stone path that leads from the harbor to the main village, where we say ''adios'' to Carlos Antony, who has to go back to school tomorrow (he's been on Easter break and helping his father on the boat).
Taquile has a wonderful textiles shop/museum -- the styles of the knitted hats, I find, are quite different from island to island.
After our hike around this charming island where the people couldn't be friendlier, lots of smiles and ''buenos dias'' we are back on the boat and cruise back to Puno.
On this trip we don't have the boat all to ourselves, as we have agreed to take a few ''hitchhikers'' over to the mainland with us. One fellow is carrying a propane tank (the size we use on our barbecues at home) to have it filled. Ah, island life!