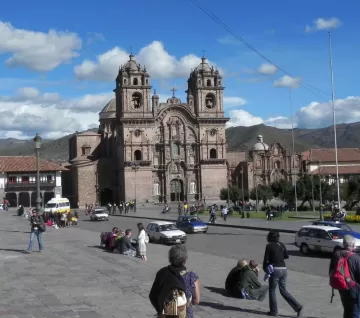 Even at the departure gate for the Cusco flight, we know this will be a very different trip. It looks like a gathering of the United Nations with people and languages from all over the world.
We are met in Cusco by not one, not two, but THREE people to help us on our way to our Adventure-Life in Peru. There is a luggage porter, a driver, and our guide for the next week, Juan.
After lunch and a rest, Juan meets us for a tour of this lovely city -- to the main square; the open market (where there are hundreds of kinds and colors of potatoes on display-- there are reportedly over 3000 varieties in Peru -- along with every other kind of vegetable you can imagine); an Inca temple site/museum.