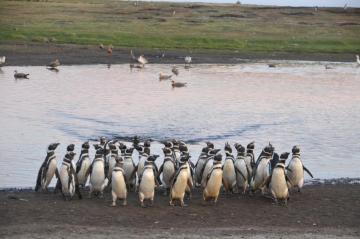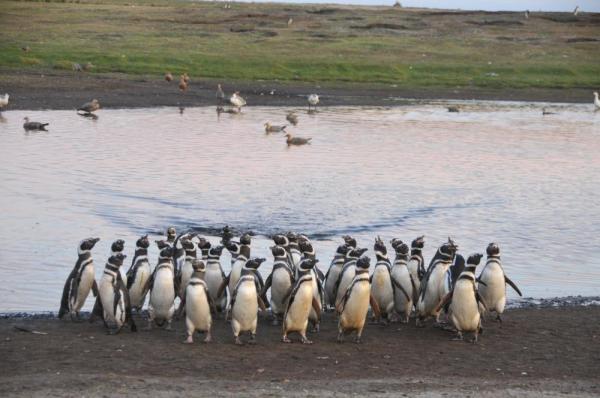 When we arrived on Sea Lion Island, we immediately received first class hotel treatment - help with our bags, offers of tea and cookies and then a tour of the Island by Land Rover (which is what everyone drove on the outer islands, as there aren't any roads to speak of).
The rooms at the lodge we were wonderful and en-suite, really first-class, especially considering you are at the edge of the world here. But, we didn't want to spend too much time in our rooms and made sure to do lots of exploring.
We saw our first penguins today! A large Gentoo Penguin colony resides near the lodge and we also a fair sized group of Rockhopper Penguins on the tour. Megellanic Penguins also kept popping out of their burrows in the ground and running in front of our vehicle. They were the most nervous out of all the penguins we would meet this trip. We were also warned they had hooked beaks that could give your quite a bite, and if that didn't make you stay away, their propensity to having fleas should!
We saw Southern Giant Petrols, Caracaras, Cormarants, Sea Lions and Elephant Seals as well. Orcas could be seen at certain time of the day off-shore. Apparently the day before we arrived they made a kill around 4:00 am and dragged it onto the beach to feed. I know it is the circle of life and all that, but my response was: gross!
After dinner all of the guest relaxed in the living room of the lodge - what a great first day!