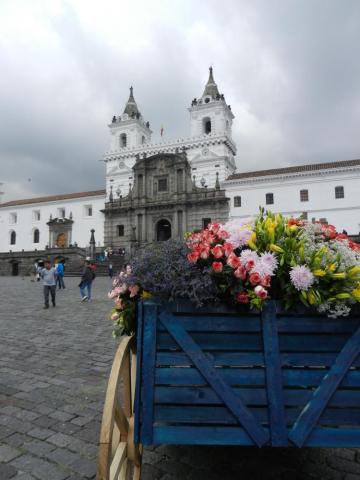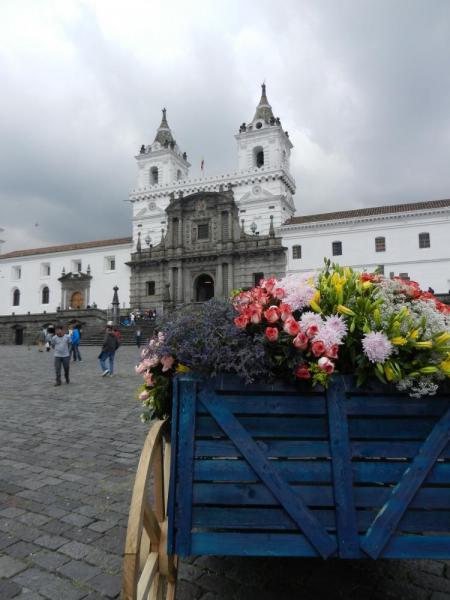 The day in Ecuador begins earlier than we are used do as there are only 12 hours of light year round from 6am-6pm. So 6am actually feels like 8am back home. We had a continental breakfast of eggs, toast, fruit, cereal, coffee, juice & tea. Simple spread but perfect. The waiter did not speak English but they always had an attendant at the front desk who spoke both Spanish and English. I pulled out my rusty Español to ask for a "tasa de café para llevar" – cup of coffee to go.
Jonathan and our driver picked us up at the hotel for out city tour. They took us first the Old Town. He took us to the Basilica and then down the road to other churches and explained the difference in architecture from one to the next. We stopped outside the last church to grab some coffee. I never know what to expect to pay – it depends if you are in a tourist place or local café. We paid $7 for three cappuccinos, which is good by US standards but expensive for local cafes. I was excited to find that a bottle of water is only between 30 and 40 cents. Good news since I drink water like a fish. That is always one of my concerns while traveling – will there be enough water. Yes! And I think your body adapts as you go along to not need as much. If you do, a convenience store is never to far away. They're on every corner through out the city where you can buy snacks, water, pop, candy, and other things.
Next we went to the statue of the virgin on the hill and Jonathan explained the different parts of the city to us – Old Town, Mariscal, the airport, etc. The airport is right in the middle of town which is a bit concerning for those who live need it. Construction is almost complete on a new airport; however, it is an hour drive outside the city so it will be a little less convenient for travelers to get to and from their hotels. The change is supposed to happen in February of 2013 so we will see how it works out.
Next we went to the Teleferico (Tram), which takes you to the top of the mountain outside Quito to look down. It was a gorgeous view and the air was so fresh and crisp, it woke us up from our daze. While traveling in a foreign country, it is inevitable that you will be more tired doing similar activities as you would at home. Your body is adapting to the time and altitude changes. It usually takes me a day or two to feel back on track. I've found that drink lots of water and electrolytes helps a great deal.
Returning to Quito, we had an excellent lunch of typical Ecuadorian food –empanadas, potato and cheese soup with avocados, and corn & beans (they looked like giant lima beans) with a rich salsa. It was a good meal to introduce our stomachs to the local food.
The last part of our day tour took us north about 30 minutes to the Mitad del Mundo, middle of the world. Jonathan connected us with the tour (they have specific guides for this tour) that takes about an hour and costs $4 per person. It was a lot more information than I was expecting. They give you a brief overview of Ecuador and the people, from the Amazon to the Highlands to the coast. Then you get to do several experiments that prove you are on the equator – including balancing an egg and walking with your eyes closed while trying to stay straight on the line. It's harder than it looks because of the centrifugal forces.
That evening, we went back to the hotel and walked around looking for a good place to eat. It was Friday night, so there were many people in the streets and at that time (about 7pm) everything was packed. We ended up going back to the hotel and eating at a wonderful restaurant just around the corner: Urbanico Café. The food was simple, good presentation, and delicious. The service was excellent! Now to bed for a 6:30am pick to the airport.