If I'm honest, one of the things I look forward to during travels is the FOOD!  If you're honest, you'd probably say the same.  The Chichagof Dream provided a culinary dream.  The galley, albeit small, was mighty!  There were four chefs working together in this small space to plate up inventive, delicious, & varied creations ALL three sit down meals (and three snack times) EACH and every day.  My respect and gratitude were expressed many times throughout the trip to Sheldon, Lemech, Chris, and Marshawn.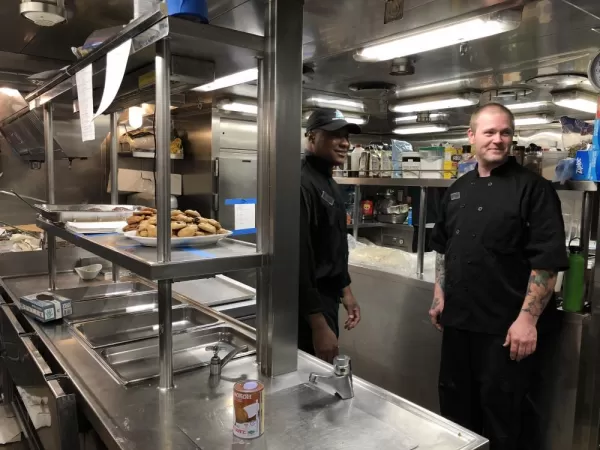 As if our schedules weren't full enough of wildlife sightings, hiking, kayaking, or beach combing, there were six, that's correct...SIX, assigned eating times throughout each day.  Passengers can opt out of any of these, but why would you?  Here is what a day's eating looked like:
6:00AM:  Pre-game breakfast in the lounge. Coffee & hot beverages, house-baked pastries, fresh fruit
7:30AM:  Sit down breakfast in the dining room.  Eggs, pancakes, bacon, custom omelettes, French toast, oatmeal, granola & fruit, yogurt, bagels & lox, gravy & biscuits, breakfast potatoes, reindeer sausage...the list could go on and on.  There were always the staple dishes available, as well as different specials each morning.
12:30PM:  Sit down lunch in the dining room.  Always a four-course meal including soup, salad, entree, & dessert....AND a basket of fresh bread with butter on the table!  Daily specials were different with a few entrees that were always available (like the burger or turkey & brie panini)
3:00PM:  Cookie time in the lounge!  Lemech, the baker, is a cookie genius.  For no other reason than because I say so.
5:30PM:  Happy hour hor d'oeuvres in the lounge - catch up with fellow passengers and eat more because it's there and it's tasty.
7:00PM:  Sit down dinner in the dining room.  Salmon, halibut, & chicken entrees were always available with exciting specials nightly!
Unfortunately, I don't have photos to make your mouth water...I took a few, but they are not great quality.  (Why aren't dining rooms equipped with lighting that makes the food shine?!?)  And honestly, I didn't take many.  I was too busy savoring each bite.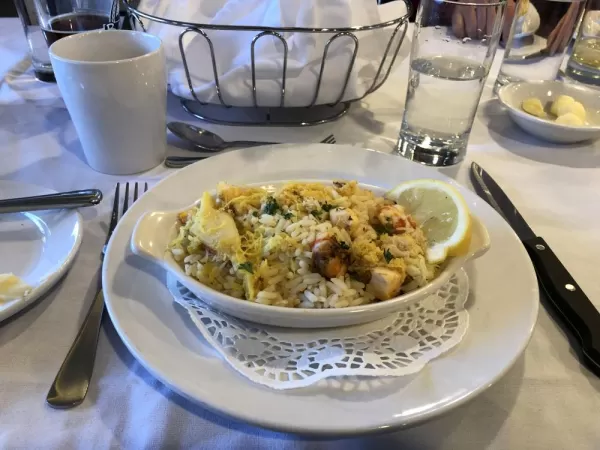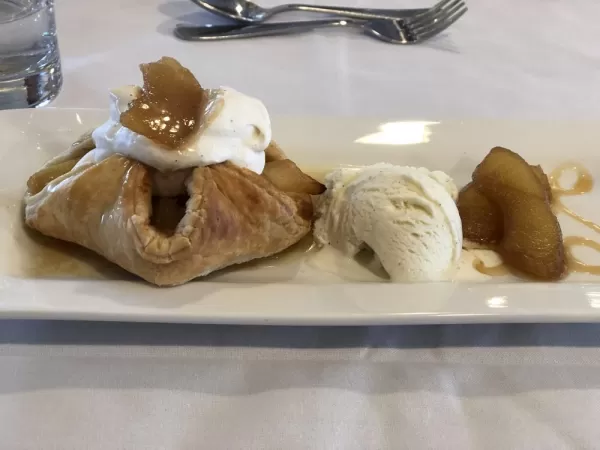 Some of my favorite dishes onboard (this is ONLY a portion of what I consumed, mind you):
- BREADS:  Walnut Cranberry Bread, Blue Cheese Onion Bread, Rosemary Focaccia
- SOUPS:  Butternut Squash Apple Soup, Beer Cheese Soup, Clam Chowder (must add Tabasco Sauce like the Alaskans do it!), Corn Chowder with Green Chile & Chorizo, Ginger Carrot
- SALADS:  Cranberry Quinoa Bacon Spinach, Walnut Salmonberry, Brie Apple Pecan
- APPETIZERS:  Smoked Black Cod with Blueberries, Sun-dried Tomato & Browned Butter Ravioli, Scallop Ceviche, Dungeness Crab Cakes with Pea Cream, Mushroom Crepe
- ENTREES:  Dungeness Crab Shrimp & Rockfish Paella, Bacon Gouda Pesto "Grown Up Grilled Cheese", Smoked Salmon B.L.T., Pork Tenderloin with Apple Butter & Sweet Potato Mash, Blackened Cod Tostadas with Salsa Verde, Alaskan Halibut Cheeks
- DESSERTS:  Chocolate Panna Cotta with Marion Berry Sorbet, Maple Walnut Pie with Vanilla Bean Ice Cream, Caramel Apple Rum Dumpling with Cardamom Cream, Personal Coconut Cream Pies, Lemon White Chocolate Cheesecake
*DISCLAIMER:  I happened to be pregnant during this cruise.  However, I still take full responsibility for a bit of gluttony...the whole "eating for two" excuse isn't really valid.