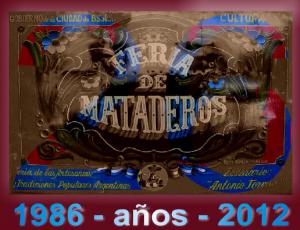 Continuing with a few insider tips for exploring the best of Buenos Aires, I invite you to visit some of the region's fantastic markets and local fairs. Mingle with the locals and do a bit of your best bargaining in these markets. Offering a bit of something for everyone -- from the collector to the art enthusiasts -- here are some favorites:
Feria de Mataderos
The Feria de Mataderos is the place to enjoy some of that legendary local Argentine cuisine. I'm talking mate, asados, artisanal cheese, dulce de leche, bread, wine and more. This fair celebrates the gaucho culture -- visitors to the fair are treated with horsemanship, handicrafts, gaucho paraphernalia, live music and, of course, delicious food. And, because it is Argentina, there is plenty of dancing as well.
Learn more
.
March-December Sundays 11:00 am - 7:00 pm
January-February Saturdays (scheduled evening events -
see website
).
Feria de San Telmo
Looking for antiques? This is the fair for you. Located in Plaza Dorrego in San Telmo neighborhood, this market is busy and bursting with Buenos Aires energy and atmosphere. Beyond antiques this fair also offers a hodge-podge of crafts, knickknacks and local street artists, including plenty of free tango shows.
Learn more.
Sundays 10:00 am - 7:00 pm
Feria de Artesanos de Plaza Francia
Located in Buenos Aires' Recoleta neighborhood, this is an more upscale market where you'll find finely crafted jewelry, ceramics, leather goods, fine arts and more. Meet the artisans and get a little insight into the local artist scene.
Learn more.
Saturdays and Sundays 11:00 am - 8:00 pm
Want to go?