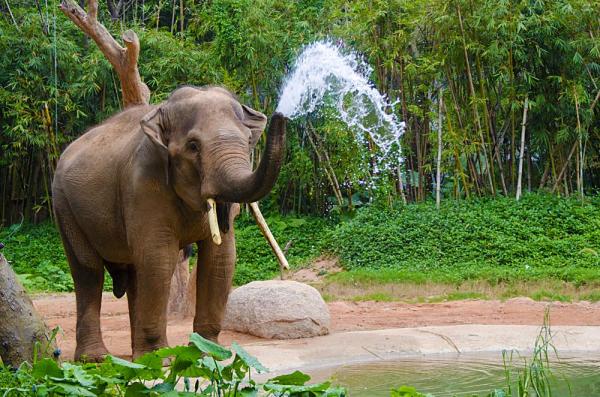 Many travelers visiting
Asia
have come to expect an elephant ride to be a part of their trip. As we get requests for these types of activities, we want to avoid any disappointment when we inform travelers that their options may be a bit limited. Travelers can meet, bathe, feed, and
PERHAPS
ride an elephant on our trips. Since a ride is NEVER guaranteed, we wanted to publicly share the reasons for Adventure Life's decisions regarding elephant experiences.
Some facts
Asian elephants are an endangered species. For example, experts approximate that less than 2,000 wild elephants are now living in Thailand. The Asian elephant population is declining at a rapid rate due to loss of habitat and because of illegal capture & trade. The demands of the tourism industry are what drives this illegal capturing & trading of these creatures.
Why does this industry thrive in Southeast Asia?
Because foreign visitors want to have their chance to ride or interact with an elephant, of course! AND they will pay good money in order to have the experience. What they don't realize is that wild elephants must be tamed before they will let people climb on their backs for a stroll around the jungle. And they also don't understand how brutal certain taming techniques can be for the animals.
Are there humane options?
Establishments that treat these gentle giants with respect & integrity most certainly
DO EXIST
, so we have been careful to choose our partners responsibly. We believe it is vital that we support humane, sustainable elephant camps & sanctuaries so that they will thrive! Hopefully then the touristy, irresponsible places will disappear as more travelers are informed about the truth of their operations.
Why still offer elephant experiences?
The question to ask is: If all elephant activities for visitors were halted, where would the elephants go? The average life span of an elephant is 70 YEARS, and in Asia they cannot just be returned to the wild as they are dependent on humans to care for them. The animals would likely end up in poor conditions, on logging fields, abused, or worse....
Our stance
Therefore, based on ethical reasons and a sense of responsibility, Adventure Life only plans elephant activities at particular establishments on our Southeast Asia trips. The elephant camps we partner with will only allow interactions that the animals agree to and never force any unnatural treatment on them. This means that a ride is possible, but not promised. One organization that we support and will send travelers to is the
Elephant Nature Park
. You can feed, bathe, and observe elephants in their natural state at this jungle sanctuary. Travelers may have the opportunity to ride on of these gentle giants on our
Southern Laos Sojourn
trip, as long as the elephants are willing to grant rides at the time. Another great organization that an Adventure Life staff member recently visited is
Green Hill Valley
in Myanmar.
We hope that you understand and can join our efforts to be responsible in all aspects of travel! See all of our Asia adventures
here
.