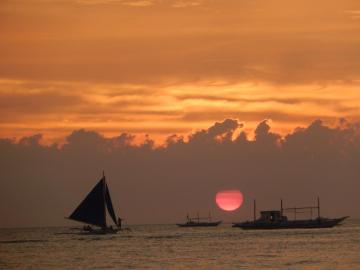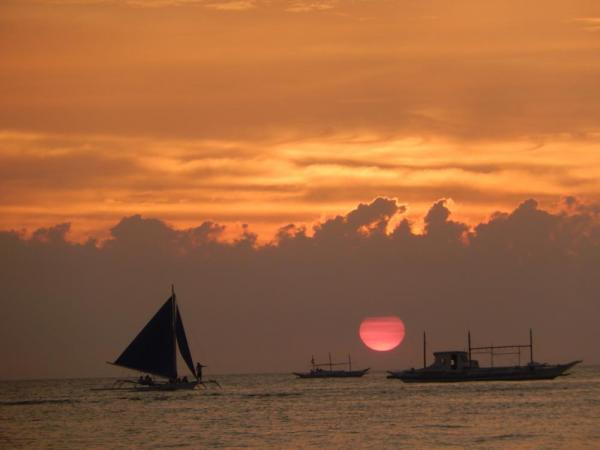 If you are looking for a remote island escape with white beaches, aquamarine waters, tropical fruity drinks, and friendly folks, the Philippines is the place to go. But with 7,107 islands, how do you find the right one for you? Here is a quick break down of some of the more popular destinations.
Palawan — best adventure.
Palawan is a brilliant ecosystem of small, secluded beaches, secret lagoons, caves, coral reefs and sea life. The thing to do in El Nido, Palawan, is rent a boat and go island hopping to see the incredible sites that are scattered among the smaller islands around the area. We saw gorgeous rock formations and inviting beaches above the water, and colorful coral and fish below the water. We kayaked into a calm, clear lagoon where we could explore sea caves and see straight to the bottom. The town of El Nido is somewhat undeveloped, with poorly lit streets and limited shops and restaurants. There are no banks or ATMs, and the electricity is on only between 2 p.m. and 6 a.m. Some resorts have generators to fill the gap. Palawan was voted as the No. 1 island in the Conde Nast Traveler's Readers' Choice Awards for 2014.
Boracay — best beach.
Listed No. 12 on the 2014 Conde Nast Top 30 islands list, Boracay has the most amazing soft white sand beach that stretches for almost 2.5 miles (4 km). Island hopping, snorkeling, parasailing, kite surfing and other water sports will keep you busy by day; restaurants, bars and nightlife keep you happy at night. There are also many shops to wander through if you are looking to pick up some beachwear or Philippine handicrafts. Boracay can get crowded, but you can always find a nice spot in the sand to watch the brilliant sunsets.
Bohol — best snorkeling.
By far the best snorkeling spot we found is off Balicasag Island, Bohol. The coral reefs are teeming with psychedelic fish that were too many to count. We also explored a sandy-bottomed area where sea turtles feed on grasses. We floated along in the current and saw at least 12 sea turtles. Bohol is known for the Chocolate Hills, conical-shaped, grass-covered limestone mounds that appear chocolatey brown in the heat of the summer months. There are somewhere between 1,200 to 1,800 symmetrical mounds over a 20-square-mile area. Really an amazing sight. Bohol is also famous for its indigenous population of tarsiers. These cute, tiny primates remind me of chinchillas with huge eyes and really long tails. We also took a lunch cruise down the Loboc River by day, and saw trees filled with fireflies by night. There is a lot to see in Bohol!
Puerto Galera — best diving close to Manila.
Puerto Galera is an easy weekend getaway from Manila; about two hours in the car and an hour by boat. It is known for white beaches, waterfalls, and the main attraction, scuba diving. The area boasts around 30 sites that offer caves, canyons, boat wrecks, and multitudes of sea life to discover. The unique thing about Puerto Galera is that the dive sites are only 10 minutes or so from shore, so you can come back to dry land between dives. We stayed in Sabang, which is a small town with one-lane roads, half-finished walkways, and tiny, dark alleyways that lead to shops and restaurants. While it lacks in infrastructure, it certainly has enough services in place to accommodate eager scuba divers. The area has about 35 dive shops; it seemed as though one out of every five store fronts along the beach was a dive shop.
There are many great islands to explore in the Philippines, all with unique adventures. What you will always find though is happy, friendly Filipinos who are willing to help you have the best experience.