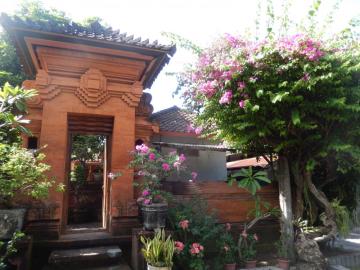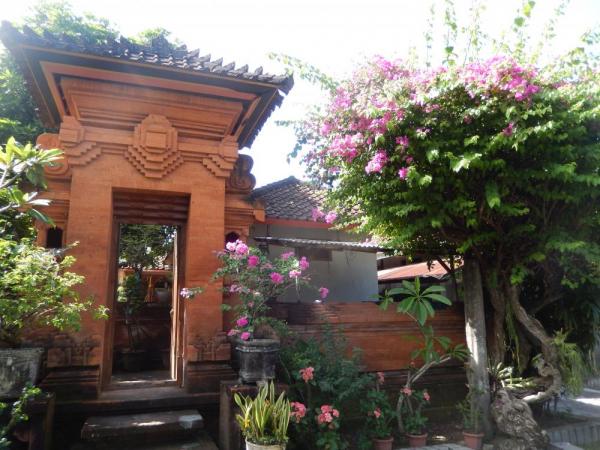 Lazy coconut trees, long sand beaches, crystalline blue waters, lush rainforests, sleepy volcanoes, vibrant green rice terraces, fiery orange sunsets, lively monkeys, and flitting colorful birds — yes, Bali is a quintessential tropical paradise. But the true beauty of Bali lies in the culture, the people, and the arts that permeate every facet of this magical island.
Bali, predominantly Hindu, seems to live and breathe in it's strong belief system. Balinese Hinduism and village life creates a close-knit community of people that support each other in the various rituals, festivals and ceremonies. They worship the traditional Hindu gods of Shiva, Vishnu and Brahma, a trinity of the supreme being,
Sanghyang Widhi
. But Balinese Hindus also honor the supreme spirit manifested in all elements of nature and animals.
There is an overall intention to achieve balance and harmony between humans and gods and nature. It is a sacred relationship that is protected and cherished throughout daily life. For instance, Balinese put out offerings — sometimes two or three times a day — of flowers, rice, fruit and incense. It is a way of giving back to the gods for what they have given you. It is also a way of keeping demons at bay. Offerings can be seen everywhere in Bali at their many temples and even on the sidewalk outside shops and restaurants. Be careful not to step on them!
The Balinese have managed to maintain their traditions and are happy to share them with curious tourists. In Ubud, there are nightly performances of various sacred dances. The Legong, for instance, is a storytelling dance told by graceful young women using intricate hand gestures and facial expressions; and wearing ornate, colorful costumes and headpieces. The dances, as well as popular shadow puppet shows, are a way for the Balinese to pass on important Hindu teachings.
The Kecak fire and trance dance features chanting shirtless men to tell the story of an epic battle. For the last act of this outdoor evening show, they light a pile of coconut husks on fire. When the fire simmers down to burning embers, a dancer runs barefoot through the pile and scatters the husks in a spray of sparks. They repeatedly sweep the glowing husks back into the middle so the dancer can kick them again and again, sending showers of sparks into the air and toward the audience. It is quite a spectacle!
Rituals and performances offer tourists a peek into these interesting and mystical traditions. But they also reveal the creative, graceful nature of the Balinese people.
The Art of Bali
It seems that everywhere you look in Bali there is art. It may have grown out of the desire to adorn temples with carvings and fabrics, but the Balinese people have an obvious gift for expressing themselves through artful crafts. It is evident in the smallest of details at hotels and restaurants, and of course in the many art galleries and shops. But the best place to see the art of Bali is in the studios where the pieces are created.
Stone carving, wood carving, painting, jewelry making, and batik and ikat fabrics are the most common handicrafts here. You can spend a whole day with a private driver for about $30 USD who will take you to the various villages where artisans create their wares. The artists are so friendly and welcoming; they love to show you what they are working on.
I love the handmade pieces that I bought in Bali, including an ikat runner, a silver bracelet, and a painting of the rice terraces. They remind me every day of the beauty of Bali.