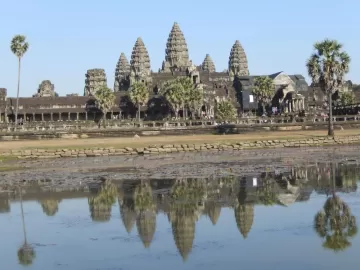 The temple ruins of Siem Reap rise from the jungles of Cambodia like a gift from the past — a gift for all the wide-eyed visitors, but also for the local people. For a country that has seen three decades of war, genocide and poverty, the wonders of Angkor bestow strong cultural pride and a new economy of tourism.
People from all over the world travel to see these massive ancient ruins that were erected more than 1,000 years ago. Angkor Archaeological Park, a
UNESCO World Heritage Site
, covers more than 300 square miles. It was the epicenter of the Khmer Empire, which ruled from the 9th to the 15th centuries. It is a marvel of architectural and cultural accomplishment that features temples, water reservoirs, canals, terraces and amazing artworks. The majestic conical towers, hefty sandstone blocks, and spacious courtyards are countered by intricate carvings, venerated statues, and intimate spaces for prayer and reflection.
The temples are stunning and awe-inspiring. Walking among them takes you to another time and place that you try to imagine, but cannot comprehend. The perfect alignment of monstrous stone blocks, the countless number of detailed carvings, the multi-level terraces — it is mind-boggling that these feats of engineering could have been accomplished without modern-day equipment.
There are so many temples that we didn't even try to see them all. But the ones we did see were amazing and remarkable in their own ways. The Bayon Temple at Angkor Thom is distinguished by the immense faces that adorn the four-sided towers. Banteay Srei is a smaller temple, but has the most detailed and well-preserved carvings that depict traditional Hindu stories. Ta Prohm, featured in the Lara Croft Tomb Raider movie, is unique in that the jungle continues to envelop the crumbling structures. Spindly, elongated trees have grown to cover and adhere to the temple walls like hardened candle wax. It is beautiful and eerie at the same time.
Angkor Wat alone covers about 500 acres of land. The outer walls of the temple are completely covered from top to bottom with bas-relief carvings of Vishnu stories; battle scenes and soldiers; trees and elephants; heaven and hell. The towers rise above the fortress like guards standing at attention. When you stand inside one and look up, you can see the sandstone blocks stacked and tapered gradually inward to create the pointed shape. It is a wonder they haven't collapsed.
A present from the past — seeing the temples of Cambodia should be on everyone's wish list.