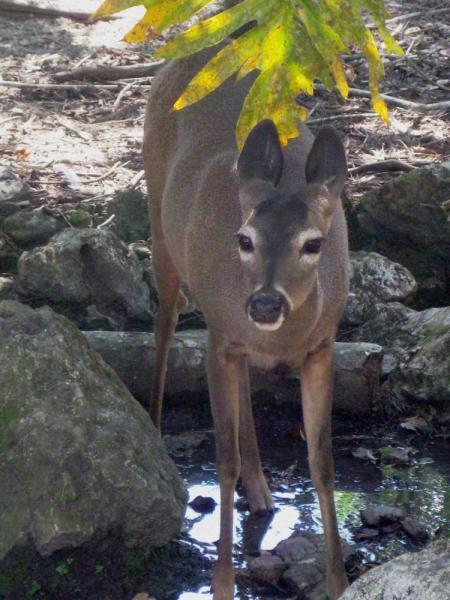 It was a rude awakening, the alarm clock, but despite the early morning hour we were so excited to get the day started. We'd left cold, snowy Montana yesterday morning arriving at Houston just after midnight. Crashing at the pricey airport hotel seemed like a good idea last night since we were so tired, and this morning it again proved convenient as we hopped on the underground train and arrived at the terminal in just 5 minutes. The security line literally took hours longer than we'd anticipated, but we managed to make it to the gate with 30 minutes to spare. Phew!
The 2 hour flight to Belize City was uneventful, and as soon as we stepped off the plane onto the tarmac Belize gave us a warm, breezy welcome. I'm so excited to be here! We waited our turn in customs and quickly found Francisco from Pook's Hill waiting outside for us. We joined Kelly and Daniel, another couple arriving on our flight, and boarded the van. About an hour out of Belize City we pulled into Amigos Restaurant for a potty break and lunch. After we all enjoyed our first Belizean meal of chicken, rice and beans, we drove the short distance to the Belize Zoo. All 4 of us pasty-white tourists lathered on the sunscreen and we headed in. First thing in the gate was a young man holding his pet Boa Constrictor…did we want to hold it too? Of course we did! I was surprised at how heavy and soft it was. Photo op competed; we spent the rest of the afternoon wandering the tropical trails of the zoo listening to Francisco sharing about the incredible variety of animals, many of whom I'd never even heard of.
We were back on the highway for another hour when we turned off the main road at TeaKettle Village onto the road to Pook's Hill. We bumped and jostled our way through the clear-cut jungle for about 30 minutes. As soon as we crossed into the 300 acres of Pook's Hill the jungle crowded in dense and thick on all sides, including above. Pulling into the lodge, we received a warm welcome from Vicki, the owner. After our first Belikan beer (the only Belize beer – better than we'd thought!) she showed us to our cabana located high on the hill above the maya site in the middle of the property. Dave, one of the managers of Pook's just happened to be having his birthday, so Vicki left us in our cabana with an invite and instructions to a party for Dave up on the roof of her house.
After resting and cleaning up, we headed out for the first incredible night we'd have in Belize. If we weren't already breathless from the trek up the hill to Vicki's house, the view certainly took our breath away. From the vantage point of Vicki's roof we could see over the jungle canopy – miles and miles of dense jungle stretched out beneath us. The sun was setting, birds were flying overhead….amazing. Simply amazing. Ryan and I just tried to soak it in, shed thoughts of home and responsibility, and relax into this tropical wonderland. We mingled on the roof for some time with the lodge guests, Dave, Cat and Vicki, sharing drinks and hor d'oeuvres while the sun set and a million stars popped out overhead. Soon we all strapped on our headlamps and trekked down to the lodge to share in our first meal in the cozy, lantern-lit dining room. After getting instructions on how to prepare for our day tomorrow, we took our tired selves up to our cabana. Crossing through the excavated Mayan ruin, our headlamps kept catching thousands of blue glitters. Fascinated but puzzled, we chalked it up to yet another way Belize had amazed us that day, and headed for bed, excited for tomorrow.