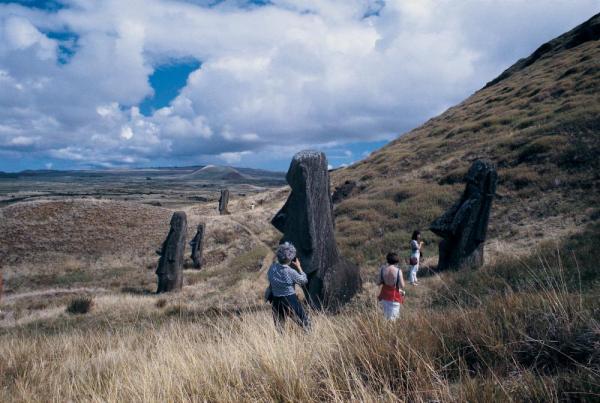 The
Chile Tourism Board
is doing a big promotion of Chile's island escapes in the October issue of
Outside Magazine
. They invite you to "Get Lost" and take a new look at
Chile travel
-- castaway style -- by highlighting some of its island superstars like Easter Island and Chiloe, and less-known, Robinson Crusoe Island (yes, that Robinson Crusoe...). Obviously, they are big fans. And so am I. Here's why I love these incredible isolated Chilean islands.
Easter Island
A tiny pinprick in the great Pacific, the island is actually a mound of consolidated lava and ash from three submarine volcanoes. Since its 'discovery' in 1722 the island has been a place of intrigue. Easter Island's greatest wonderment are the 100-ton basalt sculptures, the Moai. Little is known about the Moai and their creators. Other evidence of Easter Island's puzzling past is at Orongo village. Partially restored, the village has 48 buildings of overlapping stone slabs. Over the cliffs is a string of "bird man" petroglyphs. On an
Easter Island tour
, travelers can also visit the volcanic crater of Rano Raraku where the Moai were cut from volcanic tuff. Some 150 figures remain in all stages of completion. Oh, and the not to mention, this volcanic island is beautiful.
Want to go?
Robinson Crusoe Island
This is the island where the legendary character Robinson Crusoe was born. History's Alexander Selkirk is said to have been the inspiration for the character of Robinson Crusoe in Daniel Defoe's famous novel Robinson Crusoe. He was reportedly abandoned by his captain on the uninhabited island after a dispute in 1704, and survived there for 4 years before being rescued. On a
Robinson Crusoe Island adventure
, hear the legends of pirates and treasure as you hike through deep forested ravines, cascading streams, and along jagged coastlines in this World Heritage Biosphere Reserve. And the marine adventures on this island are top-notch. This is a world famous dive destination. Swim with fur seals and curious sea lions and explore beautiful underwater volcanic cliffs and caves.
Want to go?
Chiloe Island
This island is renowned for its folklore, fishing culture, wildlife and inviting residents. Bike through villages and along coastlines and kayak with dolphins and sea lions near old Spanish batteries. During a
Chiloe Island trip
you can hike remote stretches of beach where penguins nest and experience the local hospitality of a people whose indigenous culture and traditions have been well preserved through the centuries. Explore lush forest and visit a handful of the sixteen island churches that are recognized UNESCO World Heritage sites. I find myself overusing the word "charming" to describe Chiloe -- but it has earned this reputation.
Want to go?