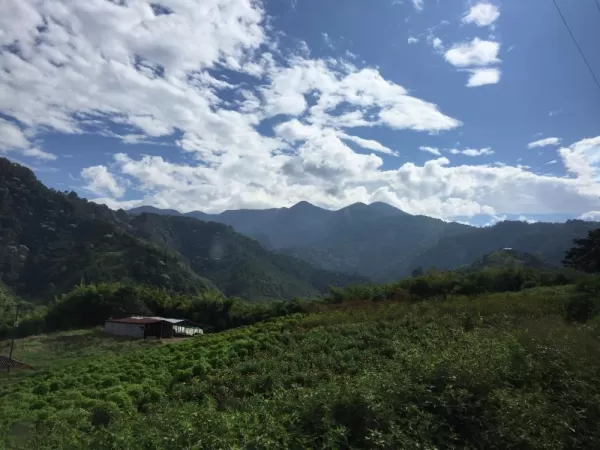 I arrived into Pereira on an early flight and was quickly met by Cesar and Rosa, my guide for the day. Cesar drove us through the valley, explaining the history of the agriculture and specifically the coffee farms. The valley is heavily populated, but is surrounded by coffee and banana plantations along the hillsides. The whole coffee region was declared a World Heritage Site by UNESCO in 2011. To say that Colombians are proud of their coffee would be a huge understatement.
We stopped at a roadside coffee shop - similar to our roadside Starbucks, only much more low-key. They had espresso, cappuccino and cafe con leche. No flavors, no frills, just delicious Colombian coffee. And delicious it was. It was creamy, a little sweet and full of flavor. I generally like my coffee dark roasted, but I would learn over the next few days to appreciate the flavor of the lighter Colombian roast.
Cesar dropped Rosa and me off at the Finca del Colina, my home for the night, where we sat down for lunch. Originally built as a family home with additional buildings for the workers, the main buildings now served as hotel rooms, kitchen and a dining patio. The grounds were beautiful. I was definitely in the tropics! There were citrus trees in the yard, flowers everywhere and a large heliconia garden just down the hill. The farm still produces coffee, and we had the opportunity to explore the fields and the drying and production areas. We wandered through the heliconia gardens and ate fresh fruit from the trees growing throughout the property.
The rest of our group arrived in the late afternoon, and the owners of the finch joined us for dinner. My first day in the Colombian coffee region was a success! I was looking forward to many more cups of coffee and delicious local food.