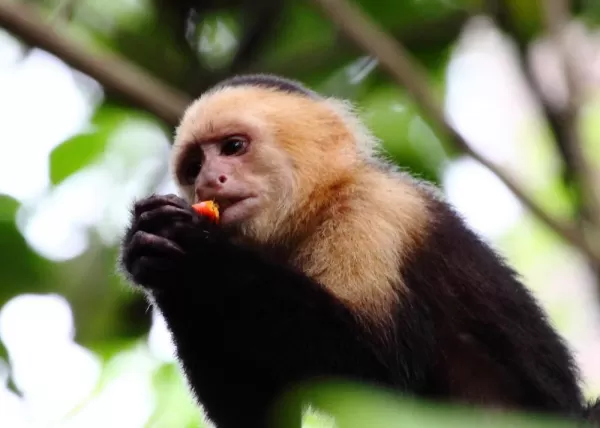 Early morning explosions are tough to ignore, even while sleeping. I began dreaming that my Mom and I were running off our island ( that would be my home in Singer Island, Florida ). The volcano exploding and Lava flowing had us fleeing for safety. We get off the island and I realized that I didn't know what was going to happen to my children and husband! Awaking to another trembling explosion, the reality of my dream being just only a dream came to light. The prior evening conversation Sharon and I had about Pompeii must have really submerged into my subconscious. What an experience for a first time volcano visitor!
The morning was topped off with a whirlwind of animal activity. Birds EVERYWHERE. The Oropendola, the Toucan, Hummingbirds galore, and the ever present Coatimundi.
The Blue-Crowned MotMot was showing off his beautiful tail and seemed to want it's photo taken during our walk on the Silencio trail. We saw the Rubber tree along the picturesque trails. Our hike ended with an unbelievable view of Arenal. The best part was our guide's 'etchings' in the dirt and his historical account of the Volcano's craters. La Fortuna was aptly named as the town of fortune when the Volcano spared it from one of its major explosions. Well, I guess it was to my fortune too as I stumbled across that book that is now so ever ingrained in my photographic memory.
We ended our day with a hike to the catarata (waterfall), a dip in the swimming pool, and an evening show of lava rolling down Arenal.