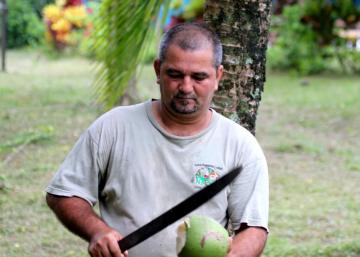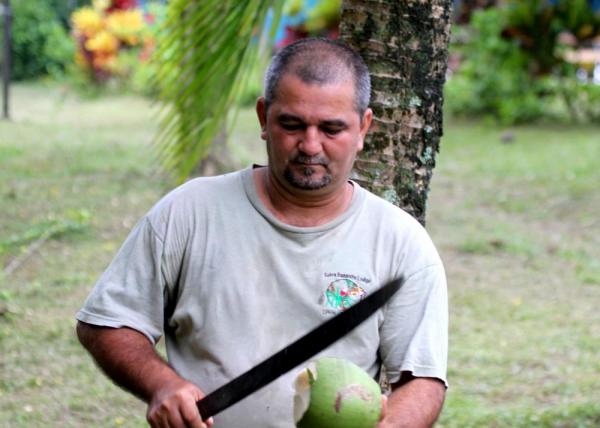 My hard headed, yet adventurous soul had decided that I was going to simply 'relax' today and do very little other than meditate at the hot springs. Sharon had other ideas. It is funny how, as long time Scuba Buddies, we seem to have fun doing most anything. The thing about diving is that you don't talk underwater , so any two people can be buddies whether you like each other or not. Peoples' mouths do tend to get them in trouble sometimes. So, being afraid that I may 'miss out' on something ( as is always my guiding force) I decide to tag along with Sharon for her journey to the Maleku village. After all, we always have fun with whatever we do.
Our tour began on a trailer outfitted with hard seats and without shocks being pulled by a tractor. As one of the guides tried taking our photo, the driver struggled to get the tractor started. In a choking movement, we were off and the guide gave chase and the camera back to Sharon. We were still laughing hysterically when we realized why the driver sat us in the 2nd row of the rudimentary vehicle. No shocks, no seat belts and a very bumpy road with pot holes littered throughout. Our bottoms were sure to have bruises the size of the pot holes and our laughter surely would make our abdomens sore for the next several days. We once laughed so hard for so long on a boat that we had the contagious disease spread to every other person on the voyage to Vieques! Either the bumps in the road or the laughter would have knocked us out of the vehicle had we been in the front row!
We were taught how to greet and be greeted once we arrived at the Maleku village. "Kapi, Kapi" and a gesture with our hands was our warm welcome. We were introduced to the medicinal healings of the Shaman. He demonstrated how many plants were used for healing. One plant in particular, he asked us to chew the leaf. A very strong tingling overcame our tongues and he explained that it was used like an anesthetic. If that doesn't give one belief in the practices of the tribal Shamans then I don't know what would. His teachings then lead us to a display of one of their traditional ceremonies. As the tribe encircled a fire, the Shaman chanted to their 'higher being'. He asked why the animals were fading away. Was he not calling loud enough? What is happening to their land? And their water? He asks for help and for forgiveness and for a brighter more healthy land, water, and animals. And here sat my humble heart melting inside. The overwhelming feeling of guilt, for all of us who have over taken and over abused our resources and our land, came crashing through my soul as if I had single handedly stripped our world of life. As the tears welled up in my eyes and I looked at Sharon, she too felt the burden. I told the Shaman and his people that their ceremony brought tears to my eyes and that I wish all people could see nature as we had seen it this week.
This was just the absolute best way to wrap up a week of witnessing nature at its best. The Leatherback Turtles, Howler monkeys, Capuchin Monkeys, Agami Herons, Mot Mot bird, Coatimundi, sloths,Hummingbirds, Toucans, Blue Morpho butterflies. We all need to care about our land and animals as the Malekus still do.
Our heavy hearts were in some desperate need of therapy, so off to Baldi springs we went. We tried to let our souls rejuvenate as best we could. The pools were nice and at varying temperatures. You could choose the ones you liked. Having been to Tabacon Springs before, I would recommend a trip there instead. I guess after our up close and personal connections with nature, I felt a bit too indulgent. We enjoyed the therapeutic session at Baldi none the less and returned to the Observatory for our last night of the awe inspiring beauty of Arenal Volcano.